Thrust plate is a component that is the simplest structure, lowest cost, easy to manufacture and replace in jaw crusher. It is usually made of the low-strength ferrosteel. Generally, if metal block and other materials that can not be crushed enter into the machine, the thrust plate will break on its own in order to protect other parts from damaging. Therefore, sometimes the thrust plate is also called safety board. This paper mainly introduces the function and replacing procedure of the thrust plate.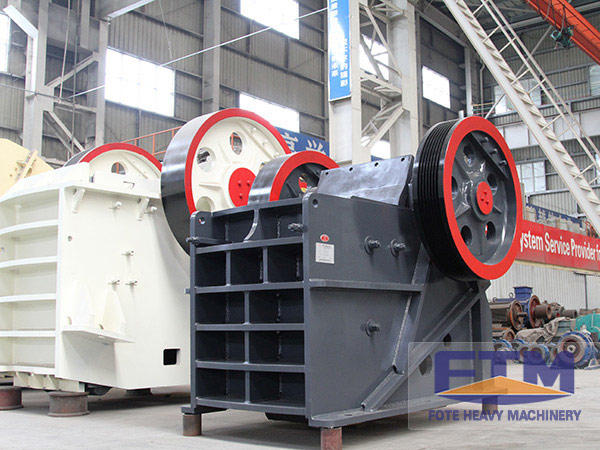 First of all, we need to learn various conditions of bearing fore in the working process of the thrust plate. The working principle of jaw crusher is that the material of falling into the crushing chamber will be squeezed and broken through the constant approach of movable jaw to fixed jaw. The thrust plate plays an important role in driving the movable jaw, which is a main transmission component of jaw crusher, and at the same time it has influence on the size of discharging port. The thrust plate will have different degrees of abrasion after being used for a long time. It needs to be replaced to ensure the normal production when the abrasion is too serious.
Functions:
1. It can support the movable jaw plate, and spread the crushing force to the back wall of frame.
2. By replacing the different sizes of thrust plates, the size of crusher's discharge port can be adjusted.
3. Thrust plate is a safety device in the whole equipment. When feeding materials, the plate will break on its own to protect other components from damaging, if hard materials and metal blocks or other debris that cannot be crushed fall into.
Procedure:
There is mainly three steps to replace the thrust plate.
1. Halt the machine in time and take some measures to repair it, if the thrust plate is worn seriously or the front plate breaks. At this time, the ores in the crushing cavity must be cleaned off, and the worn or broken thrust plate should be took out, and then user should check whether the brackets on the moving jaw and connecting rod are broken or not.
2. Pull the moving jaw to the near fixed jaw. Clean and lubricate the surface of brackets with lubricating oil to ensure its smooth work. Next, replace a new thrust plate and let it touch the brackets' surface slowly. Finally, tighten the horizontal lever to make the movable jaw clamp the thrust plate, and then tightening the safety cover.
3. Connect the lubrication system and adjust the size of discharging port according to the actual situation, to make it be suitable for production.
Welcome to consult online at any time for more information of jaw crusher.