The jaw crusher is the first choice for the primary crushing process, which has lots of features, including the big crushing ratio, the even particle size of the final product, the simple structure, and so on. Therefore, it is widely used in many fields, such as mining, metallurgy, and so on.
The jaw crusher is used to conduct the coarse or secondary crushing process of materials of various hardness. It is used to squeeze and bend the material with its two jaw plates. It consists of the fixed plate and the movable plate. When the two plates get close, the material will be crushed. When they get away from each other, the material block whose size is smaller than the outlet size will be discharged from the bottom of the machine. The jaw crusher crushes the material at intervals. Compared with the cone crusher, the jaw crusher is of low investment, less flaky final product, low production cost. Compared with the hammer crusher, the jaw crusher is of high efficiency and less later investment. Besides, its wear-resistant parts have a longer service life.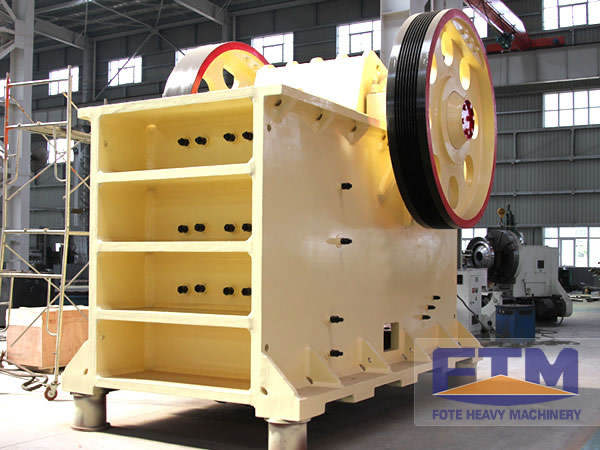 In the 1980s, the feeding size of the large-scale jaw crusher, whose productivity is 800 t/h, is about 1800mm. There are two kinds of common used jaw crushers which are the double-toggle jaw crusher and the single-toggle one. The jaw crusher is often used to crush the material whose compression strength is not more than 320MPa.
The principle of the jaw crusher: the material is fed into the crushing cavity with the jaw teeth from the inlet at the top of the machine. The jaw teeth press the material onto the cavity wall to crush it into smaller stone blocks. The jaw teeth plate moves by an eccentric shaft. The eccentric motion generates by the flywheels on both sides of the shaft. It is critical about the bearing' working condition. Thus, the bearing must can bear the great impact, load and can resist corrosion or high temperature. In spite of the extremely critical working condition, the jaw crusher should be on the reliable operation, which is very important to guarantee the production efficiency.