With the comprehensive promotion of the infrastructure construction in our country and the rapid development of mining, crushing machines are increasingly widely used to crush a variety of rocks. To crush hard materials, people are more strict with the performance of crushers and the quality of the finished products. In order to deal with the problems of the cone crusher, including the bad particle shape of the finished products of hard materials, low efficiency, high abrasion, we, Fote Heavy Machinery, have developed the multi-cylinder hydraulic cone crusher in technique, material, and structure. Thus, it can be of the highest crushing force.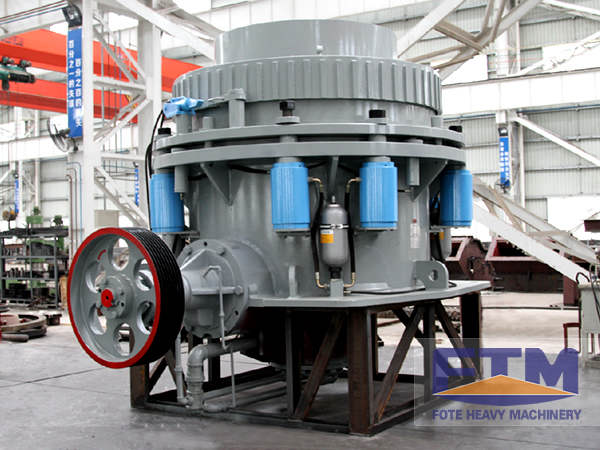 Having broken the structure design concept of the traditional cone crusher, the latest multi-cylinder hydraulic cone crusher, made by Fote, adopts the advanced structure that it is fastened by the main shaft and the eccentric sleeve rotates around the main shaft. And it is of the laminating crushing principle, which can obviously improve the crushing capacity and the product quality. Because of the laminating crushing principle, the amount of the needle-shape and flaky gravels can be decreased, the particle shape will be more perfect, and the particle grade is more uniform. And the finished products can totally meet the standard of the stone material used for building. Besides, we have newly designed the cavity type and stroke of the cone crusher. It is of high crushing capacity, which is proper to crush pebble, basalt, granite, iron ore, and other hard materials. The output of the multi-cylinder hydraulic cone crusher is 35%-60% higher than that of the normal spring cone crusher.
The hydraulic lubrication system of the multi-cylinder hydraulic cone crusher can not only guarantee the reliable operation of the equipment, but also can decrease the investment of the cost and labor, which can lower the cost of the whole crushing system and increase the efficiency. Compared with the common cone crusher, it is of more stable operation and the size of it is bigger.