In recent years, the development of mining machinery industry promotes the development of crushing equipment. With the constant research and development, the crushing machines can be used to process a variety of materials. Each part of the vertical shaft impact crusher has been researched and manufactured by us painstakingly to make it be sold all around the world fluently. We think the advantages of crushing machines will be more outstanding and the development of them will be more fluent.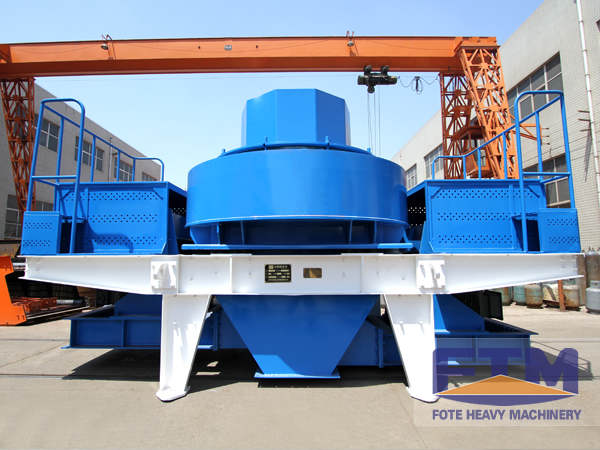 The vertical shaft impact crusher is a kind of common crushing equipment used to crush materials in many industries, such as metallurgy, construction, chemical engineering, and so on. As a professional crushing equipment manufacturer, Fote Heavy Machinery excels in the production of the crushing machines used to crush ore, sand making machines, and so on. The vertical shaft impact crusher, made by Fote, in fact, has been widely used to process many major building materials.
For exploitation and utilization of mines, the vertical shaft impact crusher can be used with some coarse crushing machines or secondary crushing machines together. As for the working principle of the VSI crusher, it is driven by electric motor and the belt pulley. When the material has been into the crushing cavity, the main shaft will move slowly. If some useless materials like metal are falling into the VSI crusher constantly, the hydraulic piston at the bottom of the machine will be released in order to open the machine and to protect it from being damaged by metal. The working principles of different types of vertical shaft impact crushers are similar. There are complete model numbers of it. It is welcomed by clients due to its nice property and wide application fields.
The vertical shaft impact crusher is a kind of widely used sand production equipment, which can be regarded as a good helper for stone material factory, sand production plant, ore dressing plant, etc. Besides, it plays an obvious role in cement production line. The vertical shaft impact crusher, made by Fote, a professional sand production equipment manufacturer, has been the leader in the market. Recently, the vertical shaft impact crusher plays a very important role in the crushing process of cement production line.