Usage and Using Scope of Ball Mill
ball mill is the key milling equipment after material has been crushed. It is widely used in cement, silicate, new construction material, refractory material, chemical fertilizer, ferrous metal and non-ferrous metal as well as ceramics. It is widely applied to dry or wet grinding for ores and grindable materials.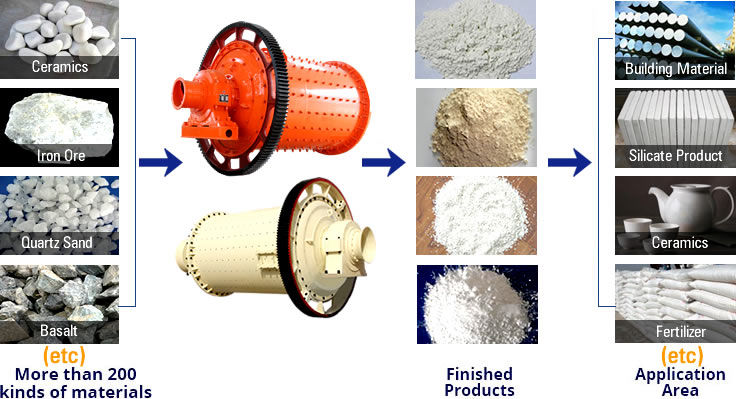 Working principle of Ball Mill
ball mill is horizontal cylindrical rotation device, driving by brim gearwheel. For two chamber mill, the material goes into the first chamber through the feeding inlet, inside the first chamber, there are stage liners and ripple liners as well as steel balls with various kinds. The shell rotates which generates eccentricity, this force brings ball to a certain height and then balls drop down by gravity, the impact is the grinding force to the material. After the primary grinding in the first chamber, material goes into the second chamber through segregate screen, in the second chamber, there are flat liners and steel section, after the secondary grinding, material is discharged through the discharging screen.
Other Products You May Need