The Description and Structure of Chute Feeder:
Chute feeder is one of equipment which is used in mining industry in a earlier time. Chute feeders have many different styles. The common structure of them is that they are all equipped with an controllable gate which can adjust the height of materials. There is a moving feed plate in the below of transporting tank. But the angular of different feed plate is different. The angular generally slopes down 5 degrees or more. The moving action of feeding board is back and forth, vibrating and swing. The driving machine is rotary crank.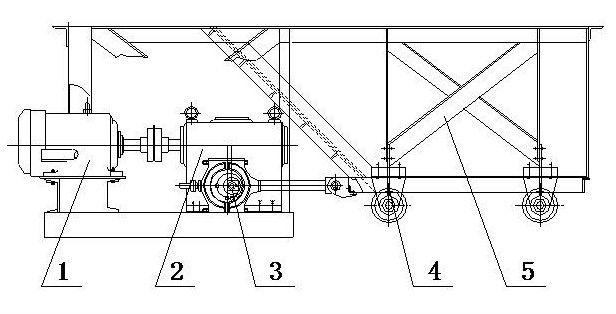 1. Motor 2. Reducer 3. Eccectric mechanism 4. Idler 5. Chute frame
The Performance Characteristics of Chute Feeder:
1. Its structure is simple. It can feed materials evenly and continually. Its vibrating force is adjustable;
2. The user can change and control the material flow at any time as you want. Besides, it is convenient to adjust the feeding capacity evenly.
3. Eccentric is excitation source. So its noisy is low, power consumption is less, its adjustment is good, and there is red materials the phenomenon.
Other Products You May Need