The Production Introduction to High Frequency Screen
High frequency screen is made up of exciter, slurry distributor, sieve frame, frame, suspension spring and screen.
This machine is owning the higher screening efficiency, small vibration and higher screening ratio, and the working process is different from the other common screening equipment. Because high frequency screen is taking the higher efficiency, it can break the tension of the pulp surface and break the high-speed oscillation of those fineness particles on the screening surface, and it can speed the density while increasing the touching ratio of those fineness particles and the screening holes, and that is the reason why high efficiency screen can be doing better in screening process.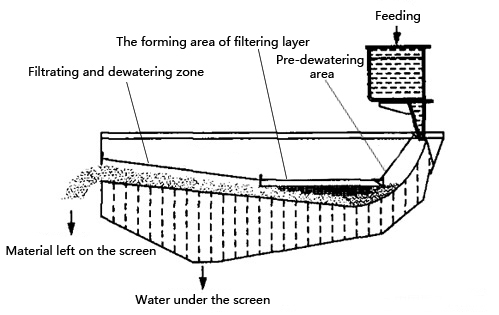 The Performance Characteristics of High Frequency Screen:
1. Using laminated mesh increases monolayer aperture, which not only increases the useful life of the screen, but also can prevent jamming and wearing.
2. The rubber spring of high frequency screen supports the screen frame, which can reduce noise and set vibrating.
3. It is low amplitude, which makes for the classification of fine and heavy materials.
4. Strong production capacity, low energy consumption.
Other Products You May Need