The Production Introduction to Magnetic Separator
Magnetic separator can be used for the wet type magnetic separation of the materials whose granularity is below 3mm such as magnetite, pyrrhotite, roasting ore, ilmenite, and this machine certainly can be applied in the dust separating work for the coal, non-metal mining, building materials. The magnetic of this machine is taking the excellent ferrite material, and the average magnetic induction is 100-600mT. Our company can provide various reasonable machines for our customers according to the different requirement.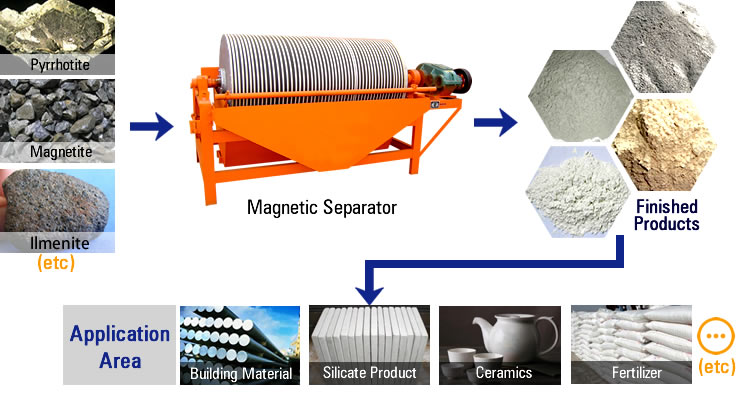 The Main Performance Characteristics of Magnetic Separator
The features of this machine are including simple structure, bigger processing capacity, easy to operate and maintain.
1. Wider application
This machine can be used for the iron removing in some fields such as coal, refractory materials, casting sand and so on.
2. Resources saving
The raw ores will be sorted out for being burned again in the closed-circuit roasting operation of hematite reduction.
3. Higher grade and less overload
To lessen the load of the next procedure by improving the grade while excluding rocks and other waste rocks.
4. Higher quality
To remove the iron that mixed in porcelain clay can be helpful to improve the quality of chinaware products.
Other Products You May Need