Are you looking for?
The Production Introduction to Micro Powder Mill
Powder grinding mill is one new type product with the international advanced technological level, which is developed by our company and German experts by absorbing the domestic and overseas excellent technology and concept on the basis of the basis of the actual situation of customers and the experience of our researchers int he past 20 years. This machine can be used to process all kinds of non-flammable and non-explosive mineral materials with the mosh hardness below 9.3 and temperature below 7%, which is the perfect choice for the materials such as quartz, feldspar, calcity, limestone, talkc, ceramics, marble, granite, dolomite, bauxite, iron ore, benritone, bentonite, coal and so on, and the fineness of finished products can be adjusted between 0.18mm-0.010mm(80mesh to 1250mesh), and the particle size of part materials can reach 2000 meshes at the maximum.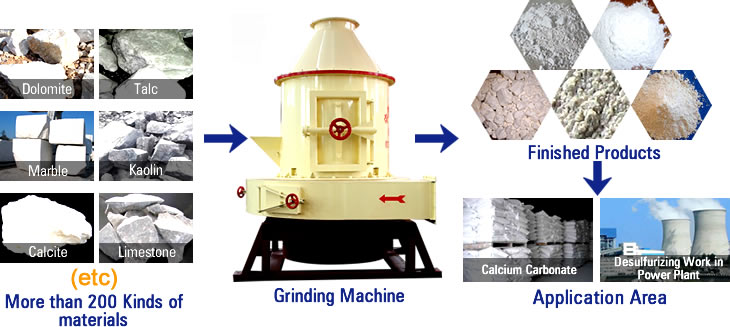 The Main Benefits and Advantages of Micro Powder Mill
1. With same capacity and fineness, the cost of the high pressure micro grinding mill is only 1/8 of airflow type, while, it is used more widely.
2. Under same capacity and fineness, system energy consumption is only 1/3 of air flow mill.
3. Under the high pressure spring working, rolling pressure force of high pressure micro grinding mill 800-1200kg higher than other same type mill.
4. Feeding size is large, and one-time average output could reach 6.5um superfine powder.
5. With overlapping, multi-poles sealing grinding devices, high pressure micro mill has a good sealing performance.
Other Products You May Need