Are you looking for?
The Performance characteristics of Raymond mill:
R-type Raymond mill is used for the highly fine power processing of 280 kinds of non-flammable and non-explosive materials in mine, chemical industry and building materials etc and the materials have the Moh's hardness scale less than 9.3 level and the humidity of less than 6% and include barite, calcity, potash feldspar, pencil stone, marble, limestone, dolomite, fluorite, lime, active carclazyte, act carbon, bentonite, kaoline, cement, phosphorite rock, gypsum, glass and heat insulating materials etc, the particle size of finished product can be adjusted from 80-325 meshes at random.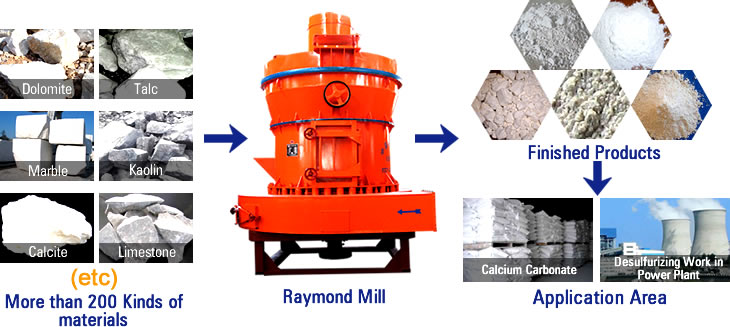 The Main Working Features of Raymond Mill:
1. Main mill transmission device adopts sealed gear box and belt wheel design with smooth transmission and reliable operation.
2. Compared with other grinding equipment, the new model pass rate is up to 99%, which is impossible for old type.
3. Quick-wear parts are made of high manganese steel with long service life. All the motors brands are national standard.
Other Products You May Need