Hot Issues of CJ Series Jaw Crusher
Application of CJ Series Jaw Crusher
Compared with the traditional jaw crusher, there are significant advances in the motion parameters, structural forms, and adjustment methods and other aspects, CJ series jaw crusher can be used for primary, secondary and fine crushing of over 120 kinds of stones and ores in mining, quarry, construction, and other fields.
| | |
| --- | --- |
| Stones | granite, basalt, quartz, gravel, bluestone, pebble, etc |
| Ores | gold ore, iron ore, copper ore, etc |
Features of CJ Series Jaw Crusher
Non-welded but detachable frame, more solid and reliable. It is also convenient for transportation and installation.
Optimized adjustment method reduces the labor intensity and downtime, making the adjustment easier.
Optimized motion parameters, guarantee greater crushing ratio. Moreover, super-large bearing, steel plate elbow, integrated steel frame base, and other features make it much reliable and efficient.
Final Output Size
About the final output size, the commonly seen output size types have 0-10mm, 10-20mm, 20-30mm, 30-40mm, etc. They can also be called 1/4"(6.35mm), 1/2"(12.7mm), 3/4"(19.05mm), G1(25mm), etc.
The final product with a certain particle size can be used as aggregate in different industries, such as construction, building, road, railway, etc.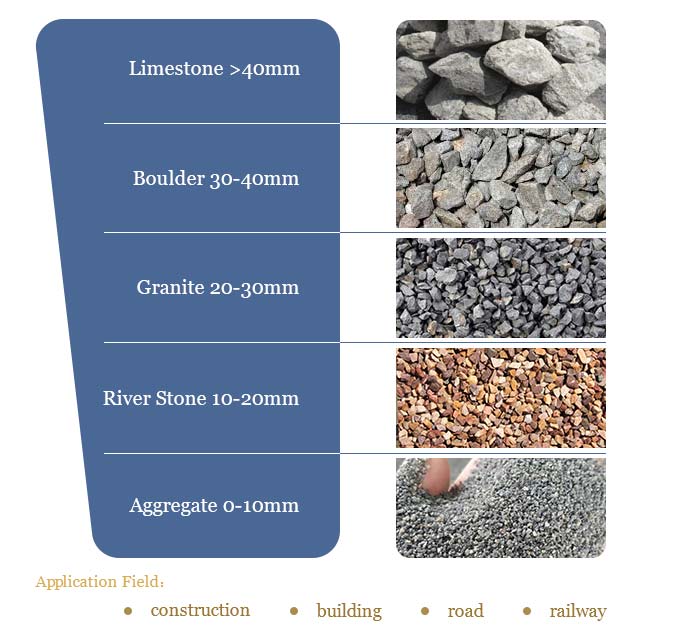 Technical Parameters