The Production Introduction to Compound Cone Crusher
Compound cone crusher is widely used in metallurgy, construction, road building, and chemical and hydrated silica industry. It can crush many kinds of ores and rocks with medium and above medium hard scale. This machine has the features of big crushing strength, high efficiency, large capacity, low cost, easy to adjust and economic usage etc. It has the long lifespan because of the components materials and reasonable structure. The evenly particle size of finished product reduces the circulation load. The hydraulic chamber-cleaning system in medium and large sized crushers reduces the machines stop time. There are many chambers of each machine, so the customers have many choices to meet their demands. This machine adopts the lubrication grease seal system and avoids the defects of water-supplying and discharging block as well as the easily mix of water and oil. The spring insurance system is overload protection device, and it can make the foreign matter and iron ore go through the crushing chamber withnot damaging it. This machine can be divided into standard type and short-head type. Generally speaking, standard type has the big feeding size and the coarse discharging size. The short head type has steep crushing awl and the feeding materials size is small, it is helpful to produce the very small sized materials. Then the standard type is used for coarse and medium crush and short head type is used for medium and fine crush.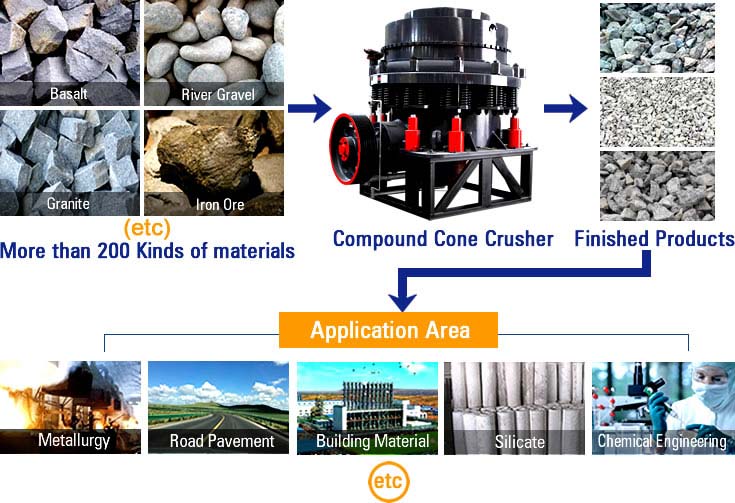 The Main Benefits and Advantages of Compound Cone Crusher
1. Unique structure, low operation cost.
The machine body is of casting steel structure, heavy steel bars are set in the heavy load parts, high sealing performance, downtime is greatly reduced by the insurance device.
2. Easy to operate
Cone crusher includes the hydraulic adjustment structure, which can make it easily adjust the discharging outlet size.
3. High automatic level
Compound cone crusher adopts a set of oil pump, oil tank, and pipeline lubrication system externally. The crusher will shut down automatically when the oil temperature is too high or the oil flow rate is too flow.
4. High production efficiency
Adopts modular design, achieve the change among coarse, medium and fine materials by adjusting the chamber-types, so to improve the production efficiency.
Other Products You May Need