The Brief Introduction to Single-cylinder Hydraulic Cone Crusher:
Single-cylinder hydraulic cone crusher, is widely being used in the intermediate, fine and ultra-fine crushing process, and this machine is researched and developed by adopting the world's most advanced crushing technology, as well as integrating mechanics, hydraulics, electric, intelligent control and other technologies together. It has advantages such as brand new structure, optimized laminating crushing chamber, as well as the full intelligent and automatic controlling system, which makes the sing-cylinder hydraulic cone crusher have the unparalleled performance characteristics that traditional cone crusher cannot compare such as various selectable chamber types, high crushing efficiency, lower cost of production, convenient adjustment and maintenance, cubic finished products sizes, etc.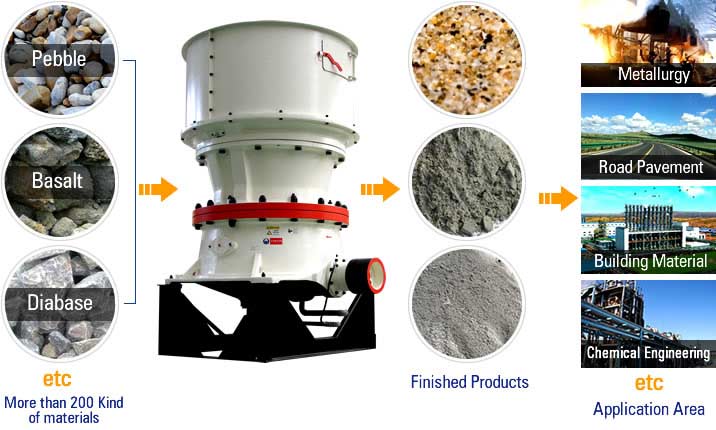 The Main Advantage of Single-cylinder Hydraulic Cone Crusher:
1. Large processing capacity and high crushing efficiency.
2. Laminating crushing and excellent particle shapes of finished products.
3. Multiple chambers combined with the best strokes, adapt to the requirement of various kinds of particle sizes.
4. Long lifespan liner.
5. Simple structure, convenient maintenance and lower operating cost.
Other Products You May Need