The Handling Materials of Briquetting Plant:
1. Coal/coke/charcoal powder.
2. Metal powder: iron powder, magnesium oxide powder, copper powder, chromium ore, lead, zinc scrap, bauxite, nonferrous metal powder, silicon manganese alloy powder etc.
3. Mineral powder: aluminum powder, toner, gypsum, sludge, desulfurization gypsum powder, etc.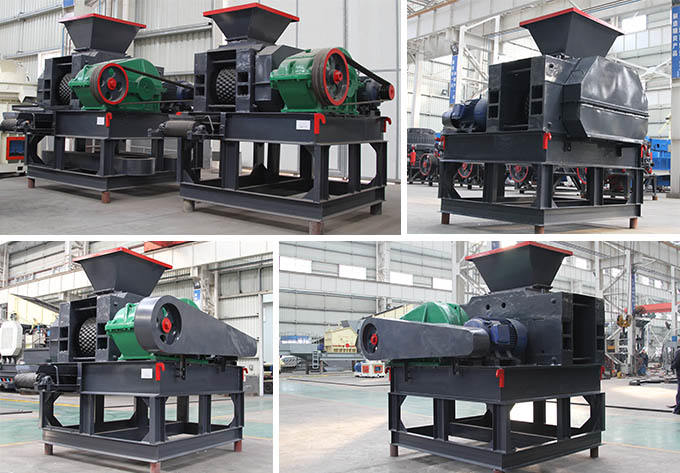 The Application and Description of Briquetting Plant:
The finished products of briquetting plant have some different types including square, ball type, elliptic type, goose eggs type, circular type, column, strip-type, buffed top, pillow type and other special shape. These products are widely used in refractories, metallurgy, chemical industry, power plants, energy, transportation, heating, animal husbandry, industry, agriculture, barbecue and other fields.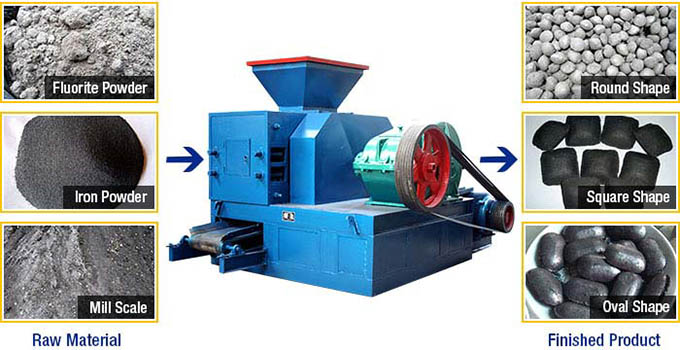 The Advantages and Benefits of Briquetting Plant:
1. The briquette press machine was designed according to the medium and small-scale scope of the enterprise in China by our company.
2. Strong stability, and resist wear-resisting, high production quality, good performance, easy to use, economize investment, get quick returns.
3. It is first-selected ideal model of investor's in small and medium enterprise.
Technical data:
Model
Roll diamter
(mm)
Roll width
(mm)
Total pressure
(t)
Main motor power
(kw)
Output
(t)
Weight
(t)
GY520-150
520
196
150
55
2.2-3.5
13
GY650-220
650
200
220
110
4-6.5
19.2
GY750-300
750
280
300
185
6-8.5
34
GY1000-350
1000
440
350
250
10-15
50.8
GY1000-450
1000
504
450
280
14-17
58.5
GY1000-500
1000
504
500
315
15-20
58.5
GYS1000-500
1000
600
500
280
17-21
56.5
GY1000-540
1000
900
540
185Kw×2
30-35
60
GY1200-800
1200
900
800
280Kw×2
40
110
GY1400-1000
1400
1000
1000
400Kw×2
50
156