The Types and Inner Structure of Sand Classifier:
Sand classifiers mainly include four types. They are high weir type single spiral classifier, high weir type double spiral classifier, immersed type single spiral classifier and immerse type double spiral classifier. A spiral classifier is composed of a transmission device, spirals, tanks, elevator mechanism, a bottom support (bearing bush) and a discharging valve.

The Application and Function of Sand Classifier:
Sand Classifier is widely used in mineral processing plant to match with the ball mill and form a closed-circuit circulation to process mining sand, or used in gravity mine-selection plant for classifying sand and mine mud, and grading sand according to the particle size, disliming, dewatering in the mine washing process.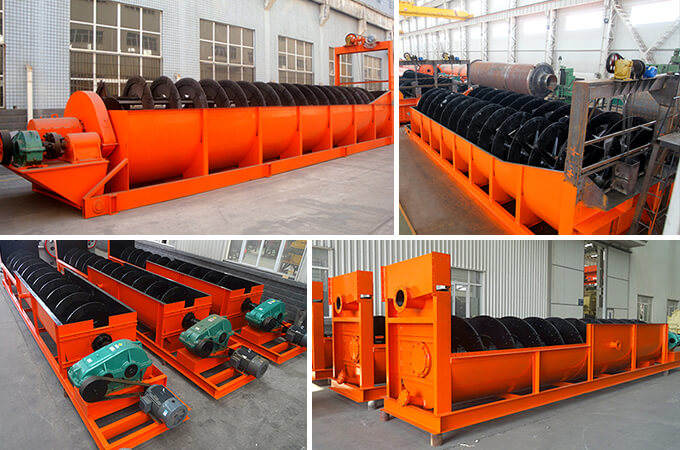 Technical data:
Model
Spiral
Diameter
(mm)
Trough
Length
(mm)
Spiral
rotate
speed
(r/min)
Processing
capacity(t/d)
Motor
Power
(kw ≤)
Dimensions
(mm≤)
Total
weight
(t)
Sand
-return
Overflow
For
driving
For
lifting
Length
Width
Height
≤
FG-3
300
3000
12-30
80-150
20
1.1
----
3850
490
1140
0.7
FG-5
500
4500
8-12.5
135-210
32
1.1
----
5430
680
1480
1.9
FG-7
750
5500
6-10
340-570
65
3
----
6720
980
1820
3.1
FG-10
1000
6500
5-8
675-1080
110
5.5
----
7590
1240
2380
4.9
FC-10
8400
675-1080
85
7.5
----
9600
1240
2680
6.2
FG-12
1200
6500
4-6
1170-1870
155
7.5
2.2
8180
1570
3110
8.5
FC-12
8400
1170-1870
120
7.5
2.2
10370
1540
3920
11.0
2FG-12
6500
2340-3740
310
15
4.4
8230
2790
3110
15.8
2FC-12
8400
2340-3740
240
15
4.4
10370
2790
3920
17.6
FG-15
1500
8300
4-6
1830-2740
235
7.5
2.2
10410
1880
4080
12.5
FC-15
10500
1830-2740
185
7.5
2.2
12670
1820
4890
16.8
2FG-15
8300
2280-5480
470
15
4.4
10410
3390
4080
22.1
2FC-15
10500
2280-5480
370
15
4.4
12670
3370
4890
30.7
FG-20
2000
8400
3.6-5.5
3290-5940
400
11-15
3
10790
2530
4490
20.5
FC-20
12900
3210-5940
320
11-15
3
15610
2530
5340
28.5
2FG-20
8400
7780-11880
800
22-30
6
11000
4600
4490
35.5
2FC-20
12900
7780-11880
640
22-30
6
15760
4600
5640
48.7
FG-24
2400
9130
3.67
6800
580
15
3
11650
2910
4970
26.8
FC-24
14130
6800
490
18.5
4
16580
2930
7190
41.0
2FG-24
9130
13600
1160
30
6
12710
5430
5690
45.8
2FC-24
14130
13700
910
37
8
17710
5430
8000
67.9
2FG-30
3000
12500
3.2
23300
1785
40
8
16020
6640
6350
73.0
2FC-30
14300
23300
1410
----
----
17091
----
8680
84.8