The Product Introduction to Sand Manufacturing Plant
Sand manufacturing plant is a high efficient rock crushing equipment with home and international leading level,the machine is developed by introducing the crushing theory and technology from Barmag Company of America and combining the actual situation of sand making. It is widely used for crushing of hard and brittle materials, such as rock, grinding material, refractory material, cement clinker, quartzite, iron ore and concrete aggregate, and it is especially suitable for the sand and aggregate making for construction and road paving.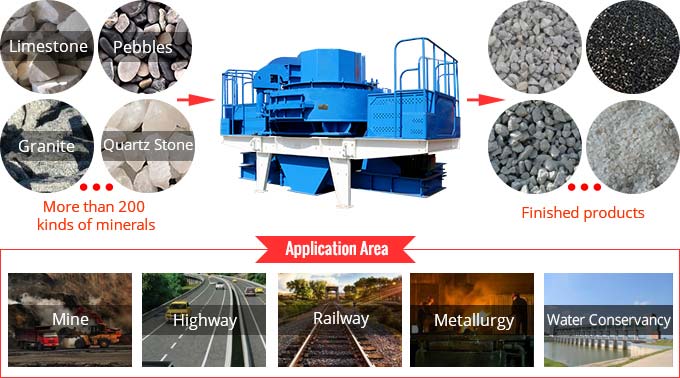 Working principle: materials falls into the fast rotating impellers from the top of machine and crushes with the material distributed around the impeller under the effect of centrifugal force. After the impact with each other, the material is crushed between impeller and cabinet and then discharged from the bottom. It can cycle many times with the close circuit and the screening device will control the granularity of finished products.
The Main Benefits and Advantages of Sand Manufacturing Plant
1. Small size equipment, easy to operate, convenient to install and maintain.
2. With function of size shaping, cubic products and big bulk density.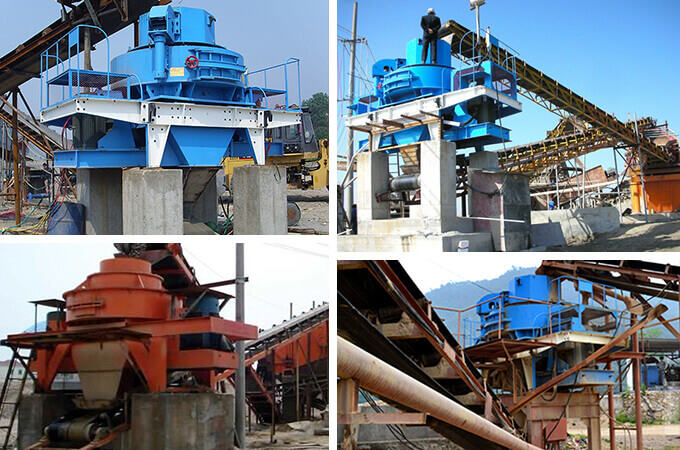 3. There is airflow self-circulation inside vortex chamber, less dust, low noise, stones can form the bottom protection base during production process, no machine body abrasion, long durable in use.
4. A few quick-wear parts are made of ultra hard and wear-resisting materials with small size and light weight, so to make it easily replace the parts.
Technical data:
Model
specification
Max.feeding
size
(mm)
Power
(kw)
Rotation
speed of
impeller
(r/min)
Capacity
(t/h)
Overall
dimension
(L×W×H)
(mm)
Total
weight
(kg)
FTM-06
35
2P 37-55
2000-3000
12-30
2500×1620×2600
5600
FTM-07
45
4P 55-75
1500-2500
25-55
2700×1760×2800
7600
FTM-09
50
4P 110-150
1200-2000
55-100
3900×2000×3070
12600