The Handling Materials and Application of VSI Crusher:
VSI crusher can process the following materials such as iron ore, copper ore, gold and silver ore, zinc, manganese, limestone, granite, basalt, cobble, coal, quartz and so on, which is widely used in the fields including rocks, abrasive, refractory, cement clinker, quartz, iron ore and concrete aggregate, building materials and so on.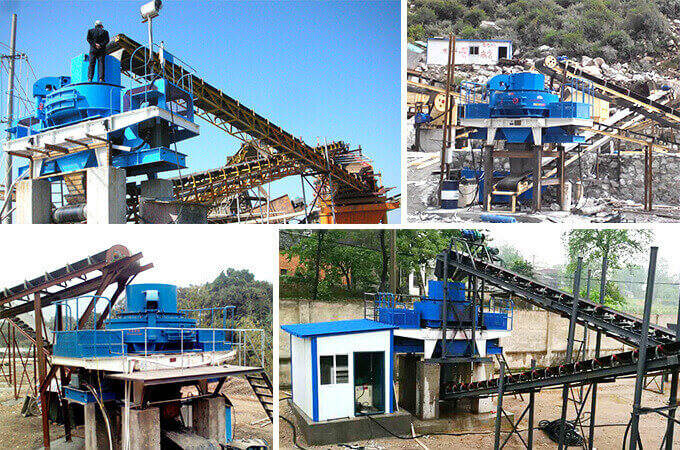 The Performance Characteristics of VSI Crusher:
1. Main shaft is equipped with imported precision rolling bearing.
2. Hydraulic lifting mechanism of upper cover can move away the cover easily.
3. Advanced double-pump oil lubrication system guarantees shaft bearing lower temperature increase, longer life time, more reliable operation.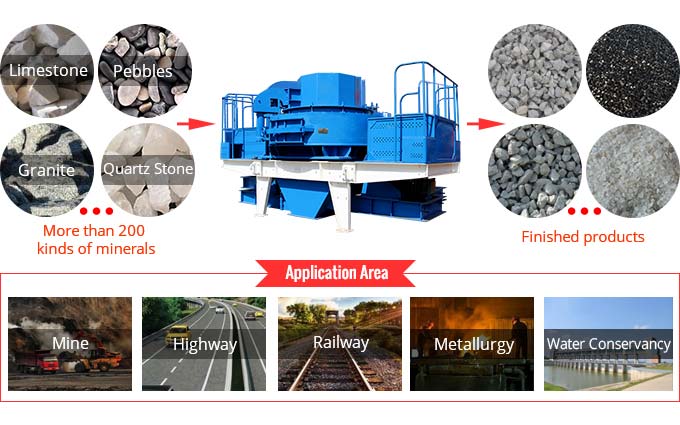 The Working Principle of VSI Crusher:
Material falls into the fast rotating impellers from the top of machine and crushes with the material distributed around the impeller under the effect of high speed centrifugal force. After the impact with each other, the material is crushed between impeller and cabinet and is discharged from the bottom. It can cycle many times with the close circuit and the sizing device will control the granularity of finished products.
Technical data:
Model
specification
Max.feeding
size
(mm)
Power
(kw)
Rotation
speed of
impeller
(r/min)
Capacity
(t/h)
Overall
dimension
(L×W×H)
(mm)
Total
weight
(kg)
FTM-06
35
2P 37-55
2000-3000
12-30
2500×1620×2600
5600
FTM-07
45
4P 55-75
1500-2500
25-55
2700×1760×2800
7600
FTM-09
50
4P 110-150
1200-2000
55-100
3900×2000×3070
12600