The Structure and Application of Mobile Crushing Plant:
All parts of mobile crushing plant are onboard, including: solid frame, impact crusher, feeder, vibrating screen, conveyor belts, motors and control boxes. The Mobile Crushing plant is widely used in mining, coal, refuse and recycling of construction waste, earthwork, urban infrastructure, roads or construction sites and other venues operations.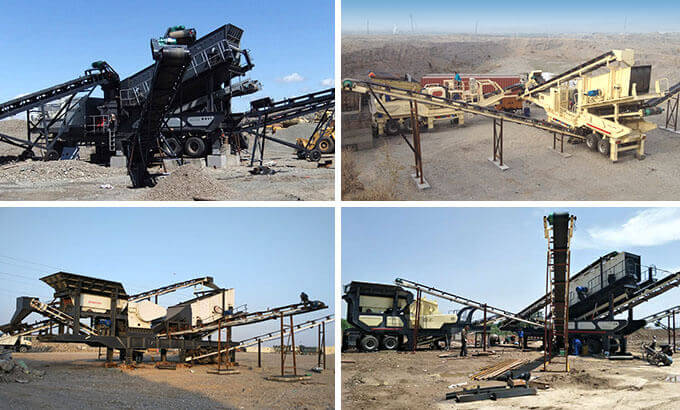 The function and Handling Materials of Mobile Crushing Plant:
Mobile crushing plant is suitable for handling a variety of topsoil and other materials while separating viscous concrete aggregate in construction and demolition industry and quarrying industry. Mobile crushing plant is mainly used for the treatment of river pebbles, rocks (limestone, granite, basalt, diabase, andesite, etc.), ore tailings, stone chips and other hard materials and ultrahard materials.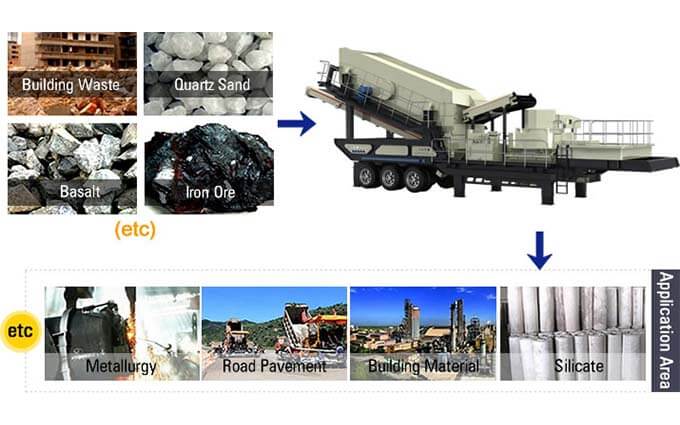 Technical data:
| | | | | | |
| --- | --- | --- | --- | --- | --- |
| Model | FTM938F1210 | FTM938FW1214 | FTM1149F1315 | FTM1349HD1110 | FTM1349HD1315 |
| Transportation Length(mm) | 12000 | 12000 | 13900 | 15450 | 15450 |
| Transportation Width(mm) | 2550 | 2550 | 2900 | 2950 | 2950 |
| Transportation Height(mm) | 3900 | 3900 | 4450 | 4500 | 4500 |
| Maximum Length(mm) | 12500 | 12500 | 13900 | 15450 | 15450 |
| Maximum Width(mm) | 3250 | 3260 | 3250 | 3250 | 3250 |
| Maximum Height(mm) | 5100 | 5200 | 5200 | 5200 | 5200 |
| Weight(t) | 39 | 44 | 54 | 62 | 62 |
| Crusher Model | PF-1210 | PF-1214 | PF-1315 | HD1110 | HD1315 |
| The Maximum Feeding Size(mm) | 350 | 350 | 500 | 400 | 700 |
| Production Capacity(t/h) | 70-130 | 100-180 | 130-250 | 112 | 280 |
| Vibrating Feeder | ZSW950×3800 | ZSW950×3800 | ZSW110×4900 | ZSW130×4900 | ZSW130×4900 |
| Main Belt Conveyor | B800×8.5M | B800×8.5M | B1000×9.5M | B800×11M | B1200×11M |
| Side-opening Belt conveyor(Optional) | B500×3.2M | B500×3.2M | B650×4M | B650×4M | B650×4M |
| Genset(Optional) (kw) | 320 | 320 | 400 | 320 | 440 |
| Iron Separator (Optional)(kw) | RCYD(C)-8 | RCYD(C)-8 | RCYD(C)-10 | RCYD(C)-8 | RCYD(C)-12 |
RELATED PRODUCTS