69 jaw crusher actually is 600*900 jaw crusher that the feeder port is 900mm length and 600mm width. It belongs to the small-scale jaw crusher, and has flexible configuration, easy operation and maintenance. 69 jaw crusher can handle granite, iron ore, aluminum ore, feldspar, river pebbles, shale and other minerals. The price is different because of the different manufacturers, and the mountings are distinguishing according to the different configurations.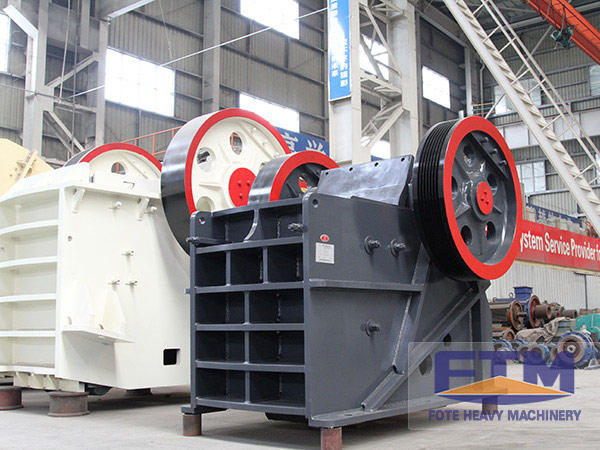 1. The Brief Introduction
In the crushing process of 69 jaw crusher, the movable jaw plate is constantly swinging state that is away from the static jaw, from time to time, and then the crushing space will be formed between the two jaw plates. The materials in the space will be crushed through being squeezed, cracked, ground, broken and other effects caused by their closing to each other. The two jaws form a V-type crushing chamber. Only the finished products satisfy the discharging port under the "V" type, can they be discharged, otherwise, can't they, which ensures that the granularity of the finished product is uniform and neat.
The deep cavity of "V" type of 69 jaw crusher can effectively control the specification of the fished products, which greatly improves the rate of sand production. Compared with the traditional jaw crusher, the production capacity of this type of equipment is increased by 1.5 times. It has good sealing performance, and is equipped with the dust removal device that can ensure there is no pollution in the crushing process, and realize the green production.
2. The Price Situation
The price of 69 jaw crusher is influenced by the different models, configurations and manufacturers. The customers can learn about the detailed price through consulting the customer service staff or inspecting to the factory. Due to the commodity price is the important factor, so the customers can choose the lower price areas to purchase the 69 jaw crusher with affordable price.
3. The Mountings
The parts mainly include jaw plates, eccentric shaft, flywheel, springs, gasket device and so on, in which jaw plates are the important crushing parts, and also is the wear components. What especially need to be focused is the quality of making materials and design of when buying 69 jaw crusher. Here, Fote suggests that customers purchase the accessories of jaw crusher from the original factory, because the accessories can be high degree of fitting with the fuselage, and it can create higher overall effectiveness.
4. The manufacturer
69 jaw crusher has been widely used in the market, and the manufacturers are increasing gradually. Users should better choose the more professional factory to buy the crusher, because the quality of products is guaranteed, and the price is more reasonable. What's more, the manufacture can timely solve the problem encountered in the follow-up production. Welcome to consult our experts for free to get more information of the price, components and manufacturer of 69 jaw crusher.