As a common crushing equipment, the hammer crusher is a kind of inexpensive one. However, it can only be used in the coal mine production with the requirement of quite small productivity of the crushing machine, with its small capacity, because of some elements, including the frequent abrasion of the hammerhead of the hammer crusher, the high replacement cost, and the difficulties in its maintenance. As a cheap crushing equipment, the hammer crusher itself has many disadvantages. Firstly, the crushing effect of it is not so good and the scope of attack of the impact hammer is protruding. Secondly, there must be a complete replacement even though only one hammerhead is worn. The maintenance cost of it is high and it is very complex to maintain and operate it. Finally, the productivity of the hammer crusher can not be greatly increased, which can only be applied to small coal mine. If the production efficiency needs to be increased too much, it is improper to keep adopting the hammer crusher. It is very hard for a hammer crusher to conduct a quite bigger crushing operation, which will lead to the high cost of the abrasion and the frequent maintenance and repair.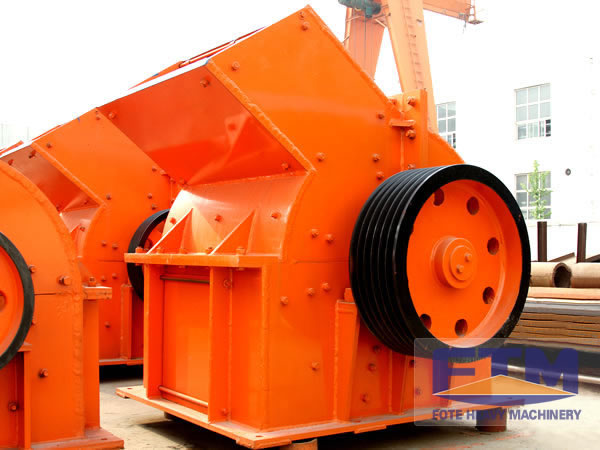 According to the specific requirements of our clients, combining with the actual situation, we recommend them the cone crusher, as for a typical crushing equipment with lamination principle, the biggest feature of which is the longer service life of its wear-resistant parts. In general, used as the tertiary crushing equipment, the cone crusher has the wear-resistant parts, the concave and the crushing wall, the service life of which can be 6-12 months, which can save the production cost and can greatly decrease the maintenance workload for the users. However, the price of the cone crusher is relatively high and its investment cost is high.
If the client wants to obtain higher benefit, the best method is to increase the productivity and to lower the production cost, which can make the client approve the equipment. The crushing process designed by us is that the PE600*500 jaw crusher is used as the coarse crushing machine and the PEX250*1000 jaw crusher is used as the secondary crushing machine and the cone crusher is used as the fine crushing machine. In the whole iron ore production line, in theory, its output can be 100t/h. In fact, it can be 80-100t/h. The particle size of the final product of the cone crusher is even. The biggest advantage of it is that it can save time and cost for you.