As a common crushing equipment, the cone crusher has the high capacity and high property. The reasonable installation and operation are beneficial for prolonging the service life of the crushing equipment, especially that of the crushing cavity. It is much better than the traditional machines in property. Recently, the cone crusher is becoming a kind of fine-type crushing machine instead of the coarse crushing machine. Instead of the fixed one, it is becoming a portable crushing machine, which is welcomed in the market with its excellent property.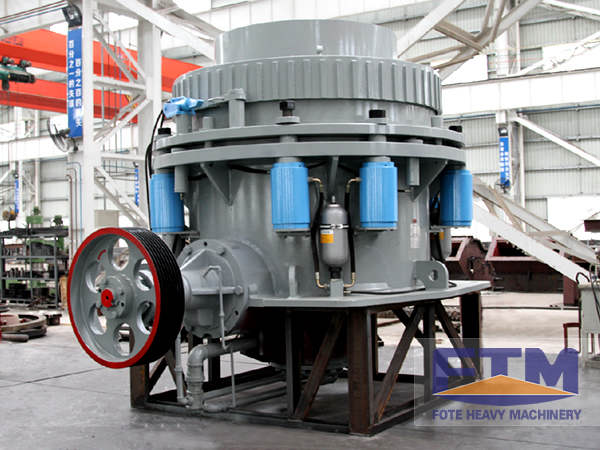 The hydraulic cone crusher is an accurate crushing equipment, which has very high productivity and high working efficiency. Therefore, there are some requirements in the operation of this equipment. For the normal operation of the hydraulic cone crusher and the decrease of the time of the installation and the test run, the workers should be familiar with the processes of the installation and the test run of the equipment and do them according to the processes seriously.
The foundation must be selected seriously. There is great impact force on the hydraulic cone crusher and there will be great vibration of the machine when it is in operation. Thus, the floor of the foundation must be of impact resistance. Besides, the floor should be even because the uneven floor may make the running machine move away from the foundation, which will lead to bad quality of the final product. It will damage the equipment if it lasts for a so long time. Therefore, it is proper to adopt the hardening cement floor. If this kind of floor is unavailable, you can adopt the concrete floor. After the installation, all of the legs of a set of machine should be firmly fastened on the anchor bolts.
In the process of the installation of a hydraulic cone crusher, the main engine should be vertical to the earth. If not, there may be some accidents of the equipment due to the rotating deviation. With the high-speed rotation and high load, the machine might be damaged. After the installation, it should be checked whether all the bolts have been fastened firmly. In the process of the transport, the bolts should be examined one by one to see whether some of them are loose. The main door of the machine should be firm. If it is loose, it should be fastened well. All the circuits and related equipment should be examined and the test run should be done only when the the crushing cavity is hollow.