With the constant development and advance of the society, there are more new techniques in the crushing machine industry. In recent years, in order to be of energy conservation and emission reduction and to utilize the limited resources reasonably environmentally, crushing machine manufacturers, by constant production, research, and revolution, combining the previous crushing machine techniques, have produced the small metal crusher, which can be used in small plants, scrap recycling stations, and so on.
The metal crusher is of a reasonable working principle. There are ten disks, fixed on the main shaft. Between the ten disks are ten hammerheads, which can swing freely. Some kinetic energy is generated by the rotation at a high speed, which can smash, tear, and break the scrap metal until the materials have been processed to be of block or ball shape and their particle size is qualified. Then, they are going through the grids at the bottom and the ones at the top. And they are falling down to the vibrating conveyor. The ones of unqualified particle sizes will be processed by the metal crusher again until they can go through the grids.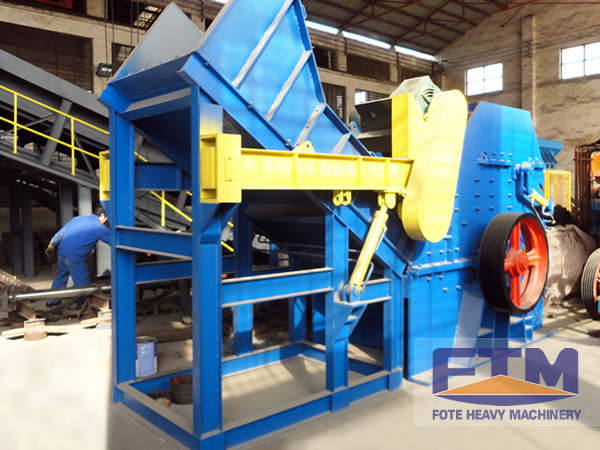 This kind of crushing equipment can process a variety of metal items, such as bicycles, motors, cars, cans, paint buckets, and various waste metal like waste steel, pig iron, scrap iron, cast iron, iron and steel, and so on. Its production line is simple. In such a production line, what are just needed are a magnetic separation equipment, a conveyor, a motor, and a metal crusher. It is widely used in sheet metal processing and distribution plants, sheet iron recycling stations, scrap metal recycling stations, and so on.
The small metal crusher of Fote has many advantages. It has the security ID and the security label. There is a new-type movable lining plate on it, which can send the unbreakable materials or abnormal stuffs into the moving box, which can protect the parts of the metal crusher from damage. Because of its blades of special material, the iron sheet can be broken completely. It has a hydraulic system, which is convenient for maintenance. According to clients' requirements, it can be equipped with the conveyor, magnetic separator, vibrating screen. It is controlled by the automatic buttons, which are safe and convenient. And it is easy to operate. Its inner lining plate is of special material and is thick, which can prolong the service life of the equipment. Besides, the metal crusher is of a strong structure.