At present, the environment problem has been well known to people. Energy saving and environment protection have been the development trend of the industry, as well as the mining machinery. Therefore, the manufacturers of sand making machine have committed to the development of environment-friendly equipment, and launched a new type of sand maker, which can better adapt to and serve society, and improve the pollution and damage to environment caused by the traditional sand make in production process.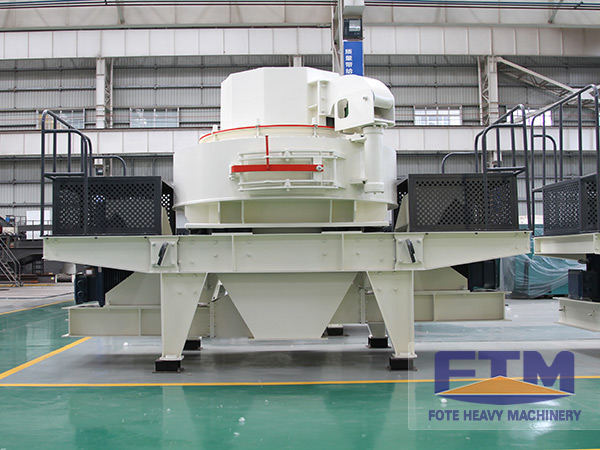 Facing to the bad mining production environment, the energy-saving and environment-friendly sand maker launched by Fote, not only can complete the operation of various gravels, but also can resolve the predicament of dust flying. So compared to the traditional sand making machine, what are the advantages of Fote machine in reform and innovation?
1. Self-circulatory System, More Environmentally Friendly
The inside airflow in the eddy chamber of sand maker can circulate automatically, through introducing the foreign advanced technology, which can eliminates the dust pollution, and the whole operation process not only reduces the harm to people, but plays the protecting role to environment.
2. Wear Parts Made from the Advanced Material, Wear-resistant & High-efficiency
Whether the wear components are wear-resistant is one of the focuses that need to be considered by costumers. In this regard, Fote has a secret weapon. First of all, Fote machine is made from the special super-hard wear-resistant material, which owns the double advantages of small volume and light weight. Next, the whole sand making machine is quite reasonable in structure, which can not only make the operation higher efficiency and stable in the production process, but reduce the wear to the wear components.
3. Advanced Sand Making Technology, Continuous Improvement & Innovative
Innovation is like rowing upstream; not to advance is to drop back. After recognizing this point, we constantly carry out technological innovation, and improve the insufficient situation of the sand maker to accelerate the pace of equipment updates, which can make the sand making equipment more prominent in the performance of energy saving and environment protection, and better meet the demands of users.
With the increasing investment in environmental governance and the driving of a series of environmental policies, the modern equipment, which has the advantages of green, environmental, energy-saving and so on, will get more chances. The sand making machine of energy saving and environmentally friendly will meet the "Spring".