The construction of railway and highway is an important symbol of a nation's economy development situation. Excellent railway and highway can promote the development of a country. The usage of a large amount of gravel and concrete aggregate is very necessary for the construction of highway, high-speed rail, and the domestic infrastructure construction industry. In recent years, the development of highway and railway has been paid attention to by our nation. Therefore, the demand of stone material has increased, which promotes the development of the quarry and stone material plants all over the country. There are more and more quarry and stone material plants in China. The crushing machinery industry is gradually developing. The equipment of the stone production line is increasingly welcome. Thus, the market prospect is becoming more wide.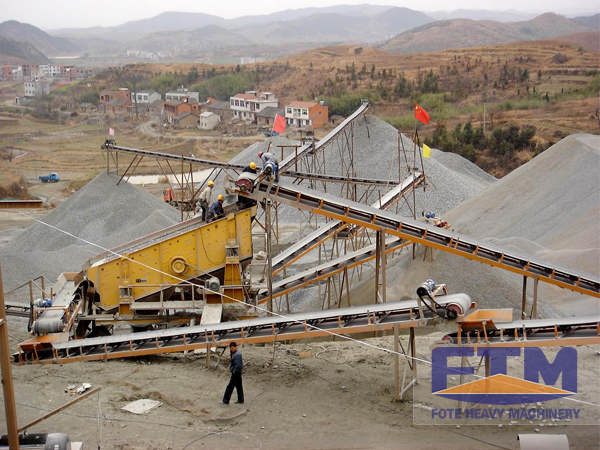 The gravel production line consists of many machines, including the vibrating feeder, jaw crusher, impact crusher, cone crusher, sand making machine, and vibrating screen. The machines are connected with belt conveyors. The user can determine the width and the length of the belt conveyor according to the production site. In the common production line, machines are installed in succession, including the vibrating feeder, jaw crusher, impact crusher, and the vibrating screen. Or, the process can be that the feeder and jaw crusher and cone crusher and vibrating screen are connected in succession. The raw material is evenly fed into the jaw crusher with the vibrating feeder to conduct the simple primary crushing process. Next, the coarse material is sent into the impact crusher by the belt conveyor to conduct the following crushing process. In this way, the particle size of the material will be smaller. With the vibrating screen, gravel of different specifications will be gotten. Some gravel whose particle size can not meet the requirement will be sent back to the impact crusher to be crushed again.
There are lots of applications of the stone production line, which is mainly used to crush rocks, such as limestone, granite, pebble, and so on. The final product produced by this production line can totally meet the GB14685-2001 standard, which is becoming the major aggregate in some industries, such as highway, railway, water conservancy project, and so on. The stone production line has many advantages, including high level in automation, big crushing ratio, high production efficiency, and so on. Among many crushing equipment, it is also the first choice for many industries.