Several clients have consulted us about the best limestone sand making equipment. We, Fote Heavy Machinery, will introduce the best high-efficiency limestone sand making equipment, the efficient fine crusher, to you.
The high-efficiency fine crusher is a kind of efficient fine sand making equipment, which can, at a time, turn the ore whose particle size is less than 180mm to the sand, the particle of which is less than 5mm. What is the application of it in the sand making production line? Next, it will be presented by Fote Heavy Machinery, which is as follows: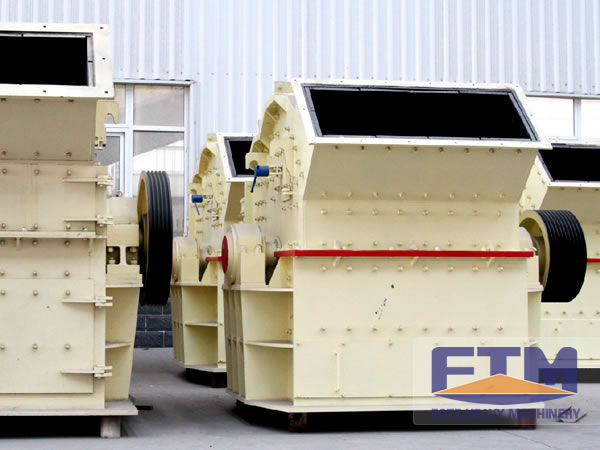 Although the fine crusher is a kind of very high-efficiency sand making equipment, the application range of it is limited. It is suitable for it to crush the soft, fragile, and crisp materials to make sand, such as limestone, weathered shale, cement clinker, and other ore materials. It is too hard for the fine crusher to crush hard ore, such as pebble, granite, basalt, and so on. If the fine crusher is applied to crush such ore of high hardness, it will be easy for the hammerheads of it to be damaged. Then, the hammerhead should be replaced about every 2 to 3 days. Therefore, it costs a lot to use it to crush hard ore.
Under certain conditions, the fine crusher is more cost efficient than the other crushing machines. It has many advantages like less investment, less power consumption, large input size. And the ore can be turned to sand of the required particle size at a time. However, it has some disadvantages. For example, the particle shape of the finished product is not nice. Besides, there is a little more powdery finished product.
The fine crusher is often equipped with some other equipment, including the jaw crusher, impact crusher, vibrating screen, sand washer, and so on. Fote Heavy Machinery is a professional mining machinery manufacturer, which experts in the production of crushing machines, sand making machines, powder grinding machines, and drying machines. We welcome more clients and cooperators to visit our company. You can call us at +86-371-69606666, 24 hours a day.