We, Fote Heavy Machinery, specialize in the supply of the gold tailing flotation equipment. According to users' requirements in handling capacity and output, we help them to design the mineral processing line and to select the types of flotation machines for them. There are a variety of flotation machines made by Fote, including the KYF flotation machine, BF flotation machine, SF flotation machine, and so on.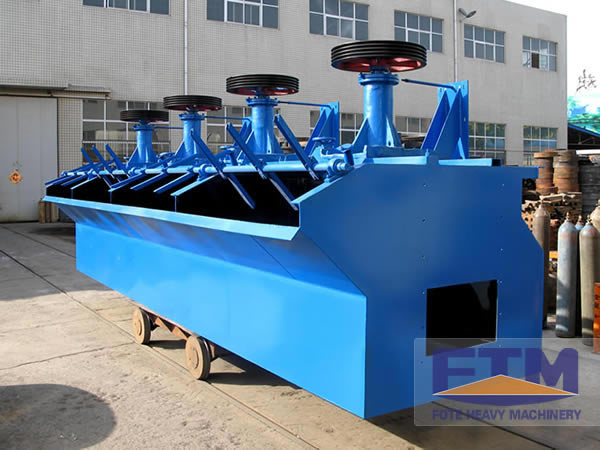 The gold processing method and the mineral processing line are determined and customized according to different properties and features of gold ore. Therefore, gold tailing of different types generates from different mineral processing methods, such as the gold tailing gravity separation, gold tailing flotation separation, gold tailing hydrogenation, etc. In recent years, to recycle gold from gold tailing is gradually becoming one of the popular projects in the gold separation industry.
Due to the outdated gold separation process and equipment in the past time, there is still some gold in the tailing, the recycling of which can not only decrease the consumption of resources but also can obtain some economic benefits. Then, how to recycle gold from the gold tailing?
Gold is a kind of noble metal so that in the gold processing line various of methods will be adopted to recycle gold mineral to the largest extent. Because the gold content is generally less in the gold tailing, the ideal recycling effect or benefit can not be obtained by common processes and equipment. Thus, to process the gold tailing of particles and less content, the new-type process and equipment must be adopted, which is of high efficiency, energy conservation, and environmental protection, in order to guarantee the recycling of gold mineral from the gold tailing without the secondary pollution to the environment.
The addition of sodium carbonate, as the pH agent for the ore pulp flotation separation, and of copper sulfate, as the activating agent, can obviously improve the index of the gold tailing flotation separation. Due to the complexity of the components of the gold tailing, the gold mineral embedded in the gold tailing, and its shape, it is hard for the flotation separation. Besides, the gold tailing has been piled up for a long time so that the surface of the mineral must be polluted and oxidized severely, which make it very hard to reach a higher level in the flotation separation. In practice, the flotation separation method and equipment determined by experiments can recycle 3kg gold from 10 thousand tons of gold tailing. Thus, there is an obvious economic benefit.