In recent years, with the rapid development of the national economy construction and the constant improvement of the infrastructure construction, cement is widely used in construction industry. And the demand of cement is becoming increasingly large.
As is known to all, recently, cement is one of the most common materials used in road construction. Recently, in the total cement consumption in our country, the cement used for road construction accounts for more than 80%. Nowadays, the cement road structure is adopted in the construction of more than 85% advanced roads within the country. However, cement is of thermal susceptibility, which means that it's easy for cement to be soft in the heat while it's easy for it to be crisp at low temperature. In summer, it is more likely to produce tracks of cars or corrugation on the road. In winter, it is likely to be of shrinkage and chap. Thus, with the development of the modern highway, it is hard for common cement to meet the requirement of the road construction. By the research and development, it turns out that the requirement of the high quality of cement for road construction can be met by adding admixture to cement or cement mixture, which can improve the function of the cement or the mixture. At present, the improved technology of cement and admixture has become the research focus of roads all around the world.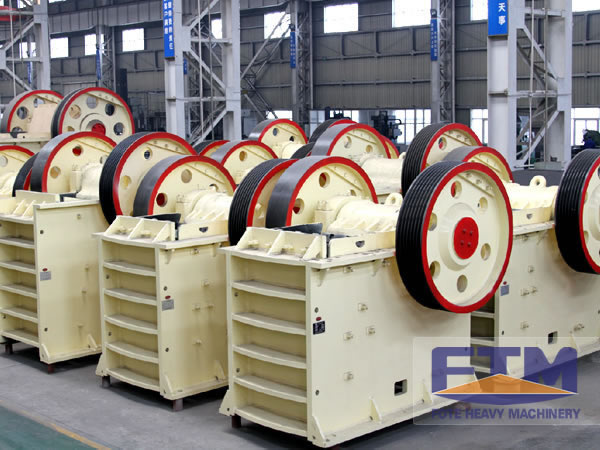 Crushing machines, sand making machines, and other large-scale crushing and screening equipment are necessary for the production of limestone aggregate used for cement production. In the cement production process, the cement vertical mill plays an important role. The jaw crusher and compound crusher are also very important. The jaw crusher can not only be used in cement industry, but also can be used in many other industries to crush nonmetal and ore. According to the market analysis and lot of practice, it can be seen that the jaw crusher is more appropriate for processing limestone. Jaw crushers can be divided into coarse jaw crushers and fine jaw crushers. The jaw crusher is the most widely used crushing machine, which has many advantages, such as high crushing ratio, simple structure, low operating cost.
The large-scale PE jaw crusher, made by Fote Heavy Machinery, is mainly used to crush various ores and bulky materials into medium-size particles. It can crush the material whose compression strength is or is less than 320Mpa. There is a complete range of specifications of the PE series products. The range of the feed size of the jaw crusher is 125mm-750mm. The jaw crusher is the first choice for the primary crushing process, which is widely used in mining, building materials, highways, water conservancy. The jaw crusher makes a great contribution to the development of the modern highway construction.