With the long-time development of the jaw crusher, the quality of it has been increased a lot, which will make the market for jaw crushers be expanded much more. Due to the innovative and high-class allocation of the jaw crusher, it can immediately meet different requirements of clients. Fote insists on the unique product fields to promote its constant development. We are trying to catch up with the current trend of the market in energy conservation and in high efficiency to occupy much more market space.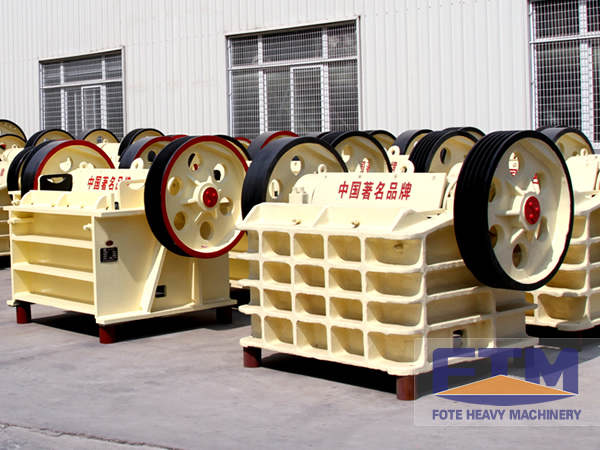 In the research and development process of the jaw crusher, to guarantee the energy conservation and high efficiency of it and to seek for innovation and efficiency to the largest extent, the jaw crusher made by Fote can be used to crush a variety of ores and rocks, especially be applied to process stone materials to make the building material used for high-speed railway construction. As for a kind of important mineral processing equipment in China, the jaw crusher plays a very important role in high-speed railway construction industry.
As for the structure reform of the jaw crusher, the lining plate is a major part so that it needs to be replaced in a certain time. The biggest advantage of the jaw crusher is its wide application range, which means that it almost can crush any kinds of rocks with few conditions. The jaw crusher can totally break hard rock, pebble, and various ores. It can successfully turn the material to be the final product with the client's required specification. The material is sent into the jaw crusher from the top of its crushing chamber. The particle size of the final product can be adjusted through the adjustment of the outlet of the jaw crusher, which can increase the crushing ratio. The proper angle of the lining plate makes the material go through the crushing chamber more fluently.
The jaw crusher has a great influence on the quality of aggregate. Building material has an important influence on the quality of the high-speed railway construction projects. Therefore, the importance of it in railway construction is very obvious. The jaw crusher is one of the common crushing machines made by Fote, the technique of which is very mature, which can efficiently help the client control the production cost. In Fote, there are several kinds of jaw crushers, such as the rock jaw crusher, the mini jaw crusher, the large-scale jaw crusher, and so on. Both of the new and past clients are welcomed to visit our company.