Mineral processing magnetic separator is a kind of beneficiation equipment for materials' separation of industrial beneficiation. It mainly utilizes the different magnetic coefficients of various ores to separate the magnetic materials from the mixture in virtue of magnetic force and mechanical force, which is one of the essential machines in magnetic separation production line. Here, we will take a detailed introduction for magnetic separator from the application range, performance advantage and price, which is a reference for users' purchase later.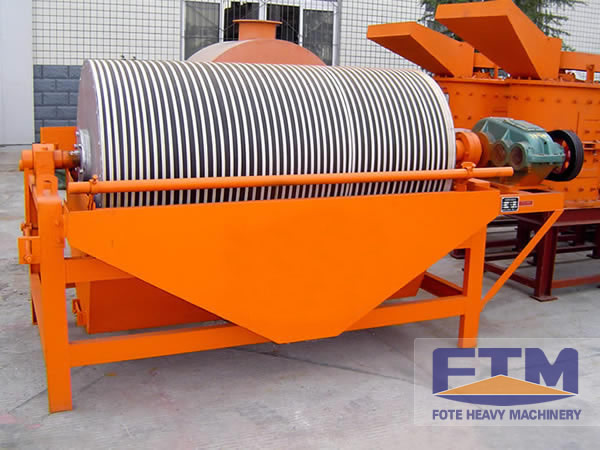 The Application Range
Mineral processing magnetic separator is one of widely used and high versatility machines in beneficiation equipment. It applies to remove iron powder in the reusing powder granule. According to users' demands, we can supply downstream, semi-countercurrent and countercurrent-type and other types of magnetic separators. The advantages of this equipment are including simple structure, large amount of processing, easy operation, convenient maintenance and so on. It can be used widely in resources recycling, timber industry, mining, kiln industry, chemical, food and other industries, and the magnetic separating ofmagnetite, limonite, hematite, manganite, ilmenite, wolframite, manganese ore, manganese carbonate, metallurgical manganese ore, manganese oxide, iron ore, kaolin and so on.
The performance Advantages
1. Advanced Components & Long Lifespan. It uses the structure of double white steel cylinder skin on the roller, which has stronger toughness and wear resistance. The outer white steel cylinder skin is a measure to increase the wear resistance of roller.
2. Good Sealing Capacity. In order to guarantee the sealing requirements of the magnetic roller, not only does the shaft end use two inner package skeleton sealing rings on , but the roller ends are sealed with O-ring. In addition, the suppression experiment is adopted to have a test, which can ensure the water does not enter the roller, and the magnetic roller can work smoothly.
3. Good Magnetic Separating Performance. Compared to the conventional magnetic separation equipment, mineral processing magnetic separator adds permanent magnets with high performance in the magnetic structure design, which can guarantee the magnetism won't disappear under high flow conditions.
4. Large Processing Capacity. The magnetic system is made from high-quality ferrite materials or composited with rare earth magnets. The average magnetic induction strength of the cylinder's surface is 100-600mT. This equipment has the advantages of simple structure, large processing capacity, easy operation, and convenient maintenance.
5. Convenient Use & Easy Maintenance. It uses the advanced gear motor, and the transmission utilizes precision roller sprocket. The advantages are including small volume, light weight, reliable and stable operation, low fault rate and so on. It is very convenient to operation, and easy to maintain for users.
The Price Consultation
The process and technology of magnetic separator made by Henan Fote is quite mature. The models are complete, and the price is reasonable. Welcome to consult online to get the preferential price list.