Recently, with the introduction of the advanced techniques at home and abroad, we, Fote Heavy Machinery, have developed the PE series jaw crusher of high performance. It is a modern crushing machine, which is developed according to the actual requirement of the clients at the working sites and under the design concept of high output and high input. It is of low energy consumption and high productivity.
In the first crushing segment of the crushing production line, the jaw crusher is the necessary coarse crushing machine. However, nowadays, in the market, although the technique of the traditional jaw crusher is mature, the technique of it is falling behind relatively. The traditional equipment is of high volume and weight. And it has many problems like low productivity. But, the PE series jaw crusher, made by Fote, can deal with these problems successfully.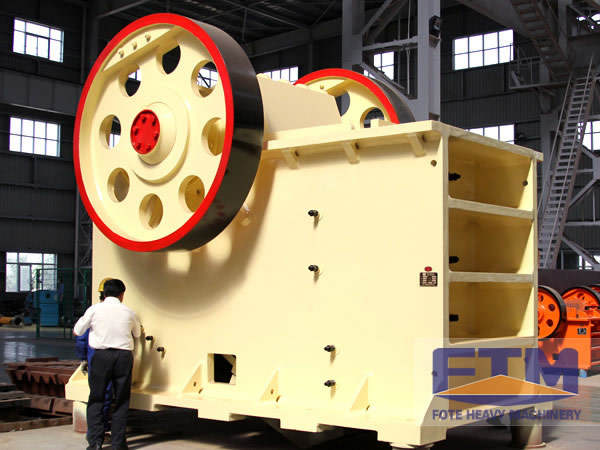 Compared with the traditional jaw crusher, according to the expert at our research center, the PE series jaw crusher can increase the output a lot in the case of the same specification because of the optimization of the motion track and the cavity type of the moving jaw. Besides, the optimization of the whole structure and the counter weight has obviously increased the stability of the equipment.
According to the journalist, the jaw crusher used to be thought of being clumsy, big, and rough. However, the PE series jaw crusher changes the people's traditional opinion on jaw crushers. Compared with the other jaw crushers of the same specification, it is of a compact structure and of less floor space, which can make it play a greater role in the limited space. Besides, it can be applied to a variety of crushing processes.
As the new generation of high-performance crushing machine, the PE series jaw crusher surpasses the traditional jaw crusher in many aspects like the performance, maintenance cost, and the structure, which can be widely used in several industries. The PE series jaw crusher can be applied to break stone used for construction and to the artificial sand production line. Especially in crushing hard materials like basalt, the productivity of the PE one is higher than that of the traditional jaw crusher. And the operation cost of it is lower than the traditional one's. Besides, it can be used in the ferrous and non-ferrous metal processing line, which can efficiently decrease the ore particle size, increase the productivity in the production line, lower energy consumption, and substantially can increase the economic benefit . According to the relative feedback from the recent clients at the sites, we believe that our PE series jaw crusher will be the optimal choice for the clients in coarse crushing process.