In sand production lines, the necessary mining machines are crushing machines, sand making machines, screening machines, conveyors, and so on. Besides, according to the situation of the production site, sometimes the production lines are equipped with sand washing machines. Sand washing machines are necessary in several situations: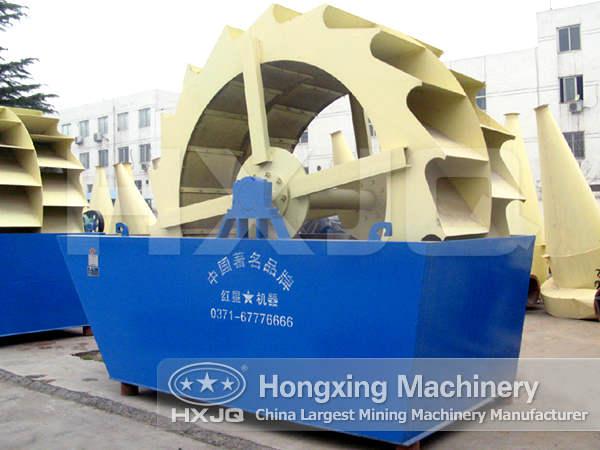 1. Generally, ore contains a lot of mud that usually jams the sieve and the mouth of the ore storage bin, which makes it hard for the process of the production line. In this case, sand washing machines can be firstly used to wash ore, then the washed ore can be crushed in the further process.
2. There is much clay in hematite or limonite. If there are few iron minerals in the cement clay, after the ore has been washed, the clay can be gotten rid of as the final tailings. Then the the high-grade ore can be obtained.
3. In washability, there are many differences between ore and the primary slime of some ore. Therefore, the mud and sand should be separated by washing the ore. In this way of processing them respectively can we obtain a better separation index.
4. Ore should firstly be selected with hands or through the photoelectric separation. However, slime is on the surface of ore, which makes it too hard to recognize ore and slime. Thus ore should be washed firstly before the beneficiation process.
The sand washing machine, made by Henan Fote Heavy Machinery Co,.Ltd, has some models such as XS2200, XS2600, XS2900, XS3500.
Sand washing machines of Henan Fote are mainly wheel bucket sand washers. The impeller of the sand washing machine turns slowly, which makes the materials tumble and grind each other. Then the washing process is just finished.