With the development of the construction recently, the demand of gravel aggregate is increasing constantly. It is severe strict to aggregate because the concrete of high strength and high property is needed a lot. But, the amount of the natural gravel which can meet this kind of requirement is increasingly decreasing. Thus, the artificial gravel will play a more important role in the construction engineering. The excellent artificial gravel is more welcomed in the market.
As the latest research result of Fote Heavy Machinery, the single cylinder cone crusher is of several advanced technologies in machinery, hydraulic pressure, electrical property, and automation. Compared with the traditional crushers, the single cylinder cone crusher has lots of unmatched advantages. Thus, it is the optimal choice for the pebble or granite crushing production line.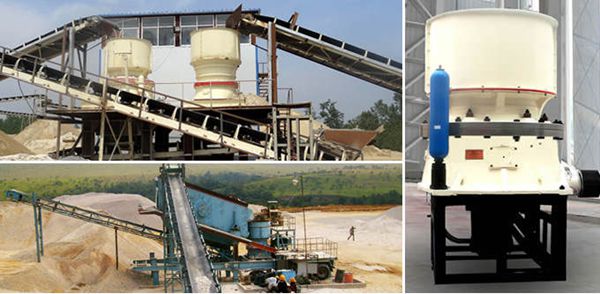 In nature, the quality of the artificial gravel made from pebble or granite is higher than that of the one made from limestone. The former is the preferred material of the freeway or high-class buildings. It is mainly because of the high hardness of pebble, which does not generate physical changes easily. However, in order to process such hard stone into the gravel that can meet the specification requirement in the construction, the reliable crushing equipment should be adopted. Thus, with the unique structure and the excellent performance in crushing field, the cone crusher stands out from the other crushers, which is now a necessary equipment in many fields.
According to Mr Liu, an engineer in our technology department, the single cylinder cone crusher is of the brand new crusher structure, reasonable eccentric distance, cavity type and ration parameter, which can greatly increase its production capacity and working efficiency. The optimized laminating crushing cavity can not only increase the crushing output and efficiency but also can improve the particle shape of the finished products. Besides, the brand new automatic control system makes it more convenient and accurate for the maintenance and adjustment in the crushing process.
There are various standard crushing cavity types which can be selected by clients. The eccentric distance can be changed flexibly. The single cylinder cone crusher can finish all kinds of medium, fine, ultra-fine crushing operations. In a word, it is the most ideal equipment for the large-scale stone material factory and mining crushing process.