The double toothed roll crusher consists of two rollers, which rotate reversely. When the rollers are rotating, the teeth on the surfaces of the rollers will nip the block of coal and break it into pieces. The materials are fed into the double toothed roll crusher from the upside of the machine. The crushed products will come out of the bottom of the machine with the rotation of the rollers. The particle size of the finished products is determined by the space between the surfaces of the two rollers. When a big block of material, which is hard, is fallen in the crushing cavity of the roll crusher and it can not be broken, the pressure on the rollers will increase. At this time, the bearing compression spring can be adjusted to enlarge the space between the two rollers. Then the hard material can be discharged. After that, with the restoring force of the spring, the movable rollers can get back to the original position.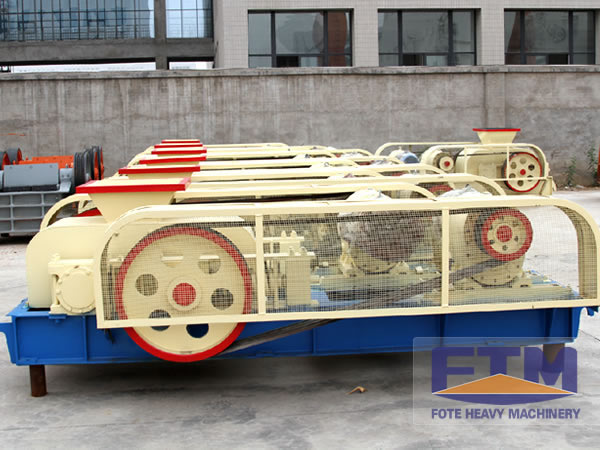 The toothed roll crusher is mainly used to chop the materials up. In addition of it, it also has the functions of impacting and bending materials. The double toothed roll crusher has several advantages. For example, the intensity of the pulverization of it is small. And the energy consumption of it is low. But, there are also some disadvantages of it. The rollers are easy to be worn. It can not crush hard materials. And the productivity of it is not high. It is applied to crush the big block of raw coal in coal preparation plants.
The double toothed roll crusher is a new equipment, which is designed spontaneously by Fote, with the reference to the structure and the principle of the American GENOX crusher. It has many features like small volume, big crushing ratio, low noise, simple structure, high productivity, and it is convenient for maintenance. The particle size of its finished products is uniform. The over crushing rate of it is low. It is flexible in the overload protection. Besides, it is safe and reliable.