The ball mill is a kind of mineral processing equipment and a very important powder grinding equipment, the existence and usage of which plays a very important role in the whole mineral processing production line. However, according to the survey done by Fote, lots of users still do not know the ball mill in usage well so that there are many unnecessary machinery faults of it.
On earth, what should we focus on in the usage of a ball mill? Next, the experts of Fote Heavy Machinery will help you about it.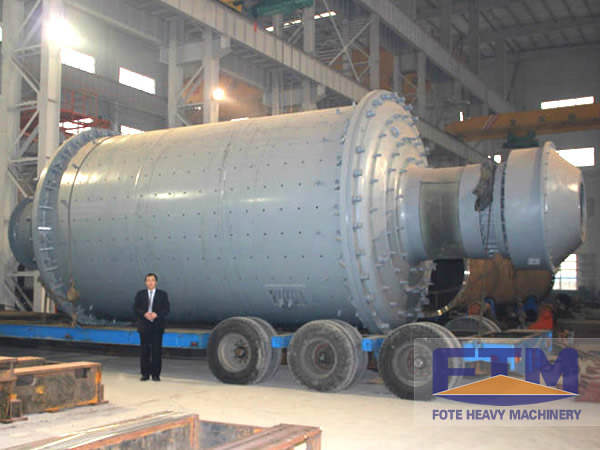 1. The Grinding Strength
Different kinds of materials can be ground by the ball mill. The grinding strength of the ball mill can be chosen according to the property of the material. When the ball mill is in the operation with the optimal grinding strength, you'd better not change its grinding strength. If the grinding strength is too small, the power consumption will be increased and it is too hard to meet the requirement in the design. If the grinding strength is too strong, there will be the excessive load of the ball mill, which will increase the electric current, weaken the grinding effect, or will cause the damage of the machine.
2. The Supplement of Steel Balls
In the operation of the ball mill, due to the abrasion, the weight of the steel balls is becoming increasingly small and the diameter of them is becoming shorter. Therefore, new steel balls should be supplemented into the ball mill regularly. Besides, the amount of the supplement of steel balls should be determined according to the wear rate of the steel balls and the amount of the material ready to be ground.
3. The Nozzle Size
The adjustment of the size of the nozzle of the ball mill has an influence on the density, the amount of the water flowing through the ball mill, and so on. Thus, in order to keep the ball mill in the optimal operation, in general, the size of its nozzle is not adjusted.
4. The Particle Size of the Material
If the particle size of the material is too big, there will be additional load for the ball mill. Besides, it is hard to break the material with very big particle size, which will both lower the grinding strength of the ball mill and will increase the power consumption of the ball. Therefore, it should be ensured that the particle size of the material should be less than the maximum feeding size of the ball mill.
All above are the notice in the usage of a ball mill for you. We, Fote Heavy Machinery, wish that every user can get to know the ball mill clearly to make the equipment serve you better.