Active lime is widely used in many industries, such as iron and steel, paper industry, etc. We suggest you to adopt the rotary kiln to calcine active lime, which has many advantages.
1. The rotary kiln's output is high, which is very suitable for the large-scale active lime production line. Recently, in the world, 2200 tons of lime rotary kilns are put into production every day. Many lime rotary kilns have been built at home and abroad. The Rotary kiln is of nice operation, which is suitable for small and medium lime enterprises.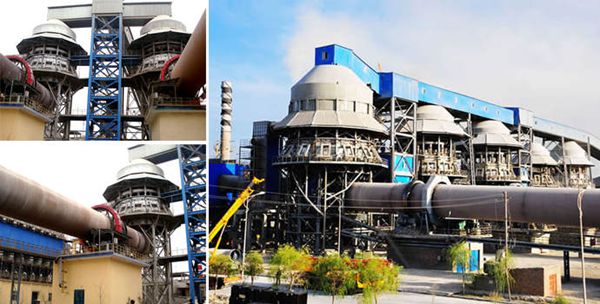 2. The rotary kiln is of the open-type calcination, simple structure, and fluent air flow. Sulfur-containing flue gas can be discharged immediately. It is not probable for the sulfur of the fuel to stick to the kiln. Therefore, the sulfur content of the final product is less, which can meet the demand in steel production. The material evenly rolls ahead inside the kiln, which can get it heated and can guarantee the stable product quality. Its over-burn rate is very low so that it can calcine the high-activity lime for steel production. Under the same condition, the activity degree of the lime produced with the rotary kiln is higher than that of the one produced with the gas kiln.
3. The fine limestone whose particle size is 10-50mm can be directly calcined by the rotary kiln. Generally, the 0-30mm limestone accounts for about 30-40% of the total output of mining products, which can not be utilized by kilns of other types. Because the material for iron and steel is becoming increasingly fine, limestone is increasingly replaced by quicklime. Thus, fine limestone can not be utilized comprehensively. With the rotary kiln, excellent limestone can be made full use of and it is benefit for the sustainable development in lime industry.
4. The preheater should be set at one end of the kiln, which can make full use of the high-heat flue gas generating from the inner kiln. It can increase the rotary kiln's output and lower the heat loss.
5. The cooler is set at the end of the kiln, which can cool the high-heat lime quickly to increase the activity degree of the final product. It is also convenient for the transport and storage. It can efficiently decrease the fuel consumption.
6. The temperature of the flue gas discharged from the preheater is low, which is between 288-350℃. It has less dust, which can make the following flue gas dispose simple and effective.
7. The biggest advantage of the rotary kiln is that its lime quality is stable. According to the whole development trend, we should rely on the domestic active lime production equipment in China. There must be a bright development prospect for the rotary kiln.