Since the compound crusher appeared in the market in our country, it has been well-known by its several advantages, such as the high efficiency, big crushing ratio, and stable property. However, the compound cone crusher has been developed on the basis of a variety of advanced international cone crushers in the 80's. The structure design of it is obviously different from that of the traditional compound crusher. Besides, it is of all the advantages of the known cone crushers of a variety of types so far. It can be applied to fine crush and ultra-fine crush hard rock, ore, slag, refractory material, and so on. The spring cone crusher can be widely used in metallurgy, construction, and so on. It can be used to crush hard and medium hard ore, such as iron ore, copper ore, limestone, quartz, granite, basalt.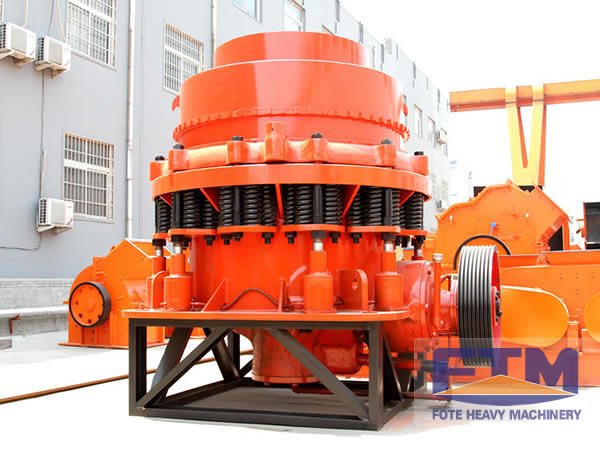 The compound cone crusher has many features, such as the reliable structure, high efficiency. And it is convenient for adjustment. It is economical. The type of the crushing cavity is determined by the application of the ore. The PYB compound cone crusher is applied to the secondary crushing process, the PYZ one is applied to the medium and fine crushing process, and the PYD one is applied to the fine crushing process. According to the differences of the sizes of the outlets and the overload safety ways, the compound spring cone crusher can also be divided into the spring cone crusher and the hydraulic cone crusher. The cone crusher consists of the moving cone, with the manganese steel lining plate, and the fixed cone. The moving cone is installed on the main shaft. One end of the main shaft is inserted inside the bell mouth of the eccentric sleeve. When the eccentric sleeve is rotating, the moving cone can be driven to do the cranking motion. In order to guarantee that the moving cone can do the cranking motion, the bottom of the moving cone should be of spherical surface. And it should be supported on the spherical bearing. All the weights of the moving cone and the main shaft are supported by the spherical bearing and the rack. In the operation time of the cone crusher, if there are some abnormal stuffs or somethings unbreakable, the spring safety system of the cone crusher will enlarge automatically. Then the abnormal stuffs will be discharged from the outlet automatically, which can not make the equipment stuck or burn out the engine, which may cause a fire. Thus, it can reduce incidents and it can prevent some unnecessary troubles, which is appreciated by lots of clients because of its obvious effect.
Fote Heavy Machinery has been founded for several decades. There are lots of experienced engineers and sales persons. If you need any helps you can contact us at +86-371-69606666.