In the modern age, in the development of the construction industry, concrete plays an increasingly important role. Concrete is used in 90% of the buildings. In other words, concrete is necessary for buildings. Concrete consists of cement, sand, and gravel. Gravel and cement are the main strength materials of concrete. Thus, gravel is very important for concrete. And, gravel is mainly made from stone. Stone is crushed into the gravel whose particle size is 10mm-20mm by crushing machines. In fact, in construction, there is the strict requirement of the diameter of gravel. Therefore, there should be some requirements of the discharging size of the crushing machine. There are a variety of model numbers of the mining machines, which have different feeding sizes and discharging sizes. The client should select the proper model number according to his or her requirement. The quality and the operational method are the key elements of the quality of the gravel. Now, we will introduce the crushing machines of Fote to you. There are different model numbers of the crushing machines of Fote, which have been approved by lots of users.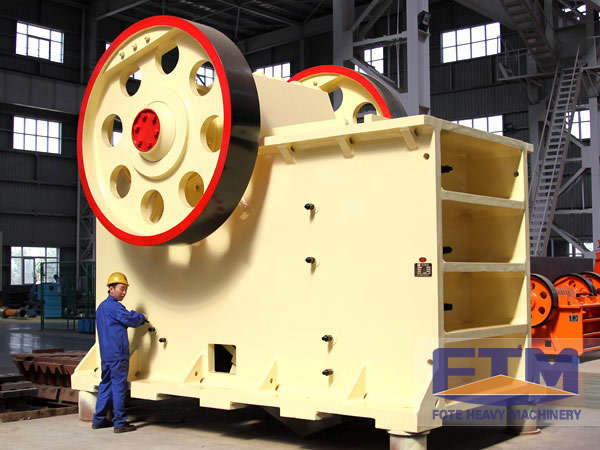 Apart from the selection of the crushing machine's brand, its maintenance is also very important. First of all, the machine should be operated according to the operating instruction. Some users think that it is not a big deal and they think there is nothing wrong with his daily operation. In fact, the wrong operation will do great harm to the machine, which may shorten its service life. On the contrary, with the right operation, the machine's service life can be prolonged. In the market economy nowadays, to lower the cost is a development trend for enterprises. Prolonging the machine's service life means lowering the cost. Therefore, the user should operate the machine properly. Besides, what is more important is that the proper operation can guarantee safety. The safety of lives is the most important thing. Thus, we should recognize the importance of safety.
There are crushing machines of different model numbers, made by Fote Heavy Machinery, including the jaw crusher, cone crusher, sand maker, and so on. You can find the crushing machine on our website, which is proper for the development of your enterprise. We pay much attention to the quality. We wish to contribute to the enterprises of our clients.