People knowing mining machinery industry are familiar with crushing equipment. The crushing machine is the high-efficiency crushing equipment researched and manufactured by Fote Heavy Machinery. The rotating parts of the crushing machine are installed on the broken gear teeth of the shaft, which can get the proper crushing effect. The allocation and the structure of the crushing and screening machines are simple and they are not heavy and it is convenient for the installation of them. The crushing and screening machines are of some features, such as high crushing efficiency, big crushing ratio, and so on. As for the driving device, there are two alternatives for you. One is the single round while the other is the shaft. Besides, the gear with the unique design can help prolong the service life of the machine. Meanwhile, the machine is equipped with a wear proof plate, made from a kind of special wear-resistant material, which can help prolong the service life of the machine.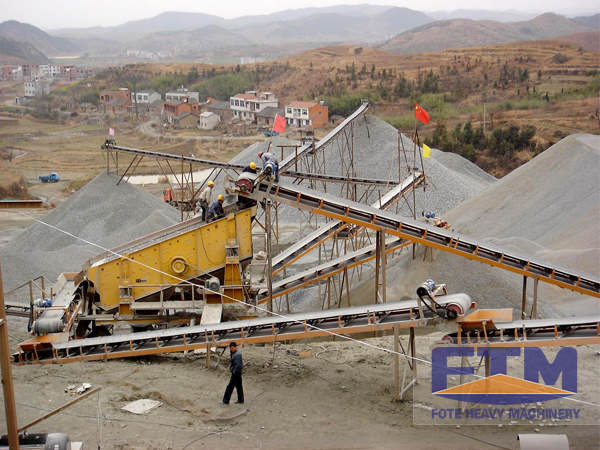 It has a higher requirement in the particle shape and grading of the aggregate used for the asphalt concrete pavement of highway. The traditional vertical shaft impact crusher can not meet the requirement in processing basalt with less flaky final product. In this case, a new kind of basalt aggregate production line is promoted by Fote Heavy Machinery, which can finish the fine crushing operation and the shaping crushing operation. The high-quality aggregate produced by this production line is widely used for the shape memory alloys pavement of national highways.
This production line consists of some equipment, such as the vibrating feeder, PE jaw crusher, PF impact crusher, cone crusher, vibrating screen, VSI crusher, etc. The final product made by this production line is of high quality. The price of the production line is reasonable and the proportion of the flaky one of the final product is less than 5%. Because the vertical shaft impact crusher is used as the secondary crushing machine instead of the final one, some useless small metal can be processed inside the VSI crusher. Therefore, in the whole production process, there can be less abrasion of the wear-resistant parts.
In addition to the basalt aggregate production line, there are many other complete crushing and screening production lines, offered by us, for marble quarry or plants, which can produce high-quality concrete aggregate for regional even national projects.