The amount of gold in ore is small. In order to extract gold, ore should be crushed and ground into particles and it should be concentrated by mineral processing methods, or gold should be separated from the ore. Among gold processing methods, the gravity separation and flotation separation methods are used a lot. The former plays a very important role in gold dust production process while the latter is widely used in rock gold mine separation. Recently, the flotation method has been adopted in about 80% of the rock gold mines in our country. The mineral processing techniques and standard of the equipment have been increased a lot.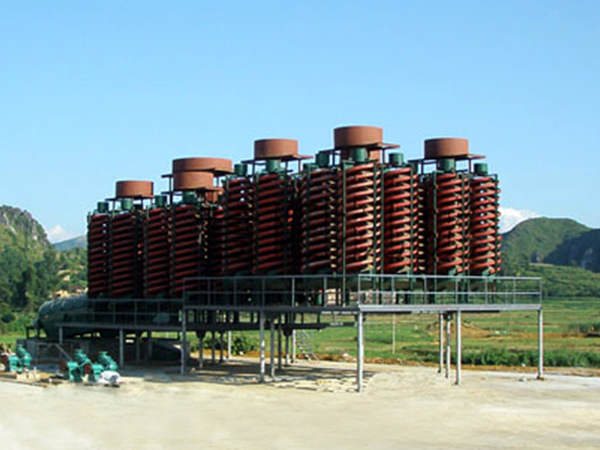 1. Crushing and Grinding Ore
According to the survey, in our country, the jaw crusher is used to conduct the coarse crushing process by most gold processing plants. The PYB cone crusher is often adopted to conduct the secondary crushing process while the PYD cone crusher and the roll crusher are used to conduct the fine crushing process. The one closed circuit crushing process with two segments is mostly adopted by the small and medium gold processing plants while the large-scale gold processing plants often adopt the one closed circuit process with three segments. In order to increase the mineral separation productivity and to find out more potential equipment, we have improved the ore crushing process, which can make the ore grinders be taken full advantage of. The major measure we take is to crush more and grind less, which can decrease the particle size of the ore ready to be ground.
2.Gravity Separation
The gravity separation method is widely used in rock gold mines., which is often used as the auxiliary process. It is used to recycle coarse gold in the ore grinding return circuit, which can create good conditions for the flotation and the cyaniding craft and increase the mineral processing index and the gross recovery of gold. It can increase of the output and decrease the cost. The major machines people adopt are the spiral chute, shaking table, and jigger. In most gold mines in China, the flotation-gravity separation process is proper to adopt.
3. Flotation Separation
The flotation separation method is adopted in 80% of the rock gold mines in China. By it, the concentrate is often sent to be processed in nonferrous smelters. With the increasing development of the gold extraction by cyanidation and the enterprises' desire of increasing the economic benefits and decreasing the concentrate transport loss, in recent years, the product structure has been changed a lot., which promotes the development of the flotation separation process.