Due to the global financial crisis, it is downturn in all walks of life. Therefore, to invest in the coal drying industry is a new opportunity for you. In the coal mining process, after the washing and separation process, it piles up in the open. Some coal is flushed away by water while some forms a kind of material of block, which has much moisture and high viscosity, forming by deposition. It is difficult to dry materials with the traditional drying machine, which is hard to be controlled. It is ignited in a simple way. The humidity of its dried material is uneven or its final product is dry outside while it is wet inside. Besides, its cost for drying is high.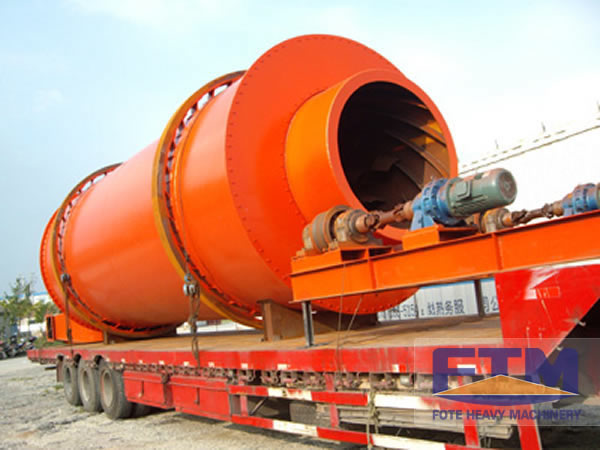 The coal drying equipment mainly consists of the heat source, the lifting plate, belt feeding machine, drum, driving part, discharging machine, suction fan, etc. The working principle of the coal dryer will be introduced to you. Coal itself is of much moisture and high viscosity. Coal is fed into the primary crushing equipment with the belt conveyor to be crushed at a high speed. Then, the crushed material is sent into the drying machine with negative pressure. There are some operation sections for drying coal.
1. Feeding Material Section. The wet material is fed into this section and touches the hot air of high temperature and negative pressure, which can evaporate lot of moisture from the material. With the lifting plates, it will not stick to the machine and will be sent into the next section.
2. Arrangement Section. In this section, the wet material is lift by lifting plates, which is just like a screen. When the material falls down, it may stick to the wall of the drum easily. Thus, there is a cleaning device in this section, which can quickly clean the material sticking to the drum wall. In this process, the cleaning device can help to crush the material. Then, the heat exchange area can be increased, which can increase the efficiency in heat transfer and drying the material.
3. The Section with Inclined Lifting Plates. It is a dry section with low temperature, in which the coal is scattered and of low moisture. No coal sticks to the wall in this section. Through the heat exchange, the final product can meet the requirement in moisture then it can be sent into the discharging section.
4. The Discharging Section. There is no lifting plate in this section, in which the material turns over and slides into the outlet to finish the whole drying process.