The mineral processing equipment consists of different kinds of machines, such as crushing machines, ball grinding mills, screening equipment, magnetic separator equipment, sand washing equipment, gravity separation equipment, and so on. With the constant exploitation of mineral resources, the demand of the equipment of mineral processing and grinding is increasing a lot. The characteristics of the mineral resources in our country determine that fine separation of ore is necessary after mining. The exploitation of mineral resources will promote the development of some mineral processing equipment industries in our country.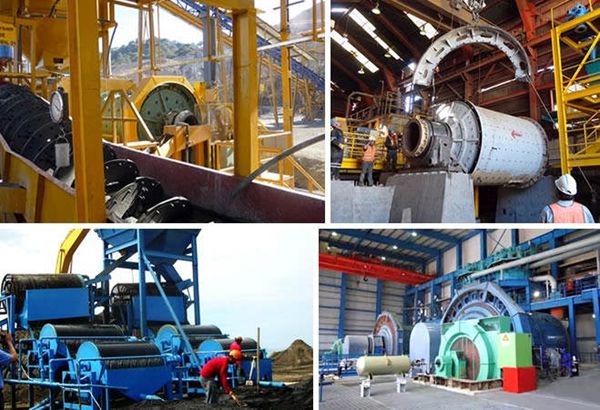 With the rapid development of the iron and steel industry in China, the recent exploitation of some mineral resources, and with the sharp increase of the amount of ore yearly, in the future, Chinese mineral processing machinery like the ball mill will develop a lot. Recently, mineral resources are exploited constantly and there is a terrible contradiction between the extensive mineral processing method and the lack of resources. Thus, it is in urgent need of the fine mineral processing equipment and technologies in the market. Mineral processing equipment should be developed timely. To increase the utilization ratio and the recycling rate of tailing is what the mineral processing equipment manufacturers should focus on in the future. Among the recent mineral processing equipment, the gravity separation equipment and the flotation separation equipment are used a lot. However, the utilization ratios of these two kinds equipment are kind of low, which can not meet the actual requirement. And the comprehensive mineral processing station is not good at mobility, which can not accord with different situations. In the future, the splicing technology should be adopted for the movable mineral processing station, which can enhance the property of control of it.
The development of the mineral processing technology and that of its equipment are synchronous. The production technology may influence the quality of the whole mineral processing industry. It will be an obvious trend that the future mineral processing equipment like the ball mill will be more large-scale, which can improve the level of the equipment of the mineral processing plants in our country and can increase the comprehensive economic benefits. The large-scale crushing machines and ball mills can not only decrease the investment of the basic construction, but also can reduce the floor space and power consumption. Besides, it can make its automation be realized.