In recent years, the concrete machinery has developed fast in the market and its competition is more fierce. In order to grasp the most advanced techniques and be superior in resource and channel in the international competition, the Chinese industrial giants has taken some actions in the concrete industry. With the development of concrete industry, dry mortar has become an emerging market.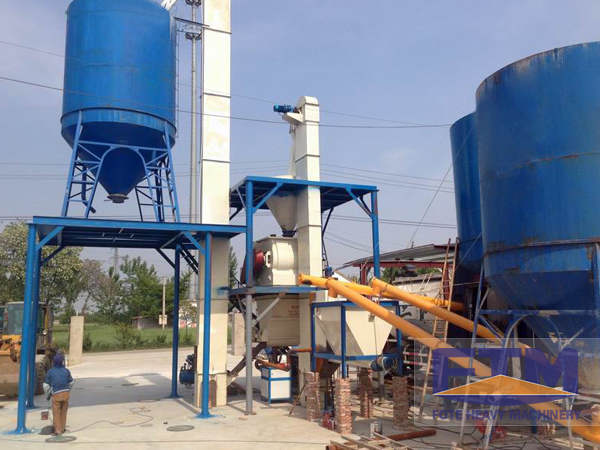 After more than half a century's development, the European dry mortar market is the most mature one in the world. Among all the mortar products in Europe, dry mortar accounts for more than 90%. In Germany, there are more than 150 dry mortar production lines. In our country, dry mortar belongs to an emerging industry, which is regarded as a new building coating. In recent years, the dry mortar industry in China has developed a lot.
In the flourish time of pre-mixed mortar industry, due to the difficulty in the control of the dry mortar's quality and the unrealized comprehensive mechanical operation, to some extent, the development of dry mortar has been constrained. Recently, in China, most of the dry mortar equipment manufacturers can only produce and sell dry mortar equipment. There is still no one which can provide clients with a complete solution including the ingredients service, consultancy, and training.
In recent years, with the increase of the demand in environmental protection, to promote dry mortar in construction sites has become the urgent task for all the local construction departments. The corresponding local standards and policies and regulations have been put into force.
According to the experience in the European and American developed countries, dry mortar is the development trend of the pre-mixed mortar. In the next five years, its production and sale scale in the world will constantly increase. Recently, the center of the dry mortar in the world is turning to Asia. About 2500 production lines are needed in China Annually. the demand of the building mortar in China is 0.35-0.6 billion tons, in which the output just accounts for 5%. Some experts have predicted that, in the next 3 years, the increase of the complete sets of the dry mortar equipment will surpass 70% annually.