As is known to us, in recent years, with fast-paced urbanization of China, the rapid development of real estate industry, and with the demolition and renovation of the dilapidated buildings, lot of building waste increasingly has a bad influence on the urban environment. It is not a right way to pile up building waste at random, which will be a big obstacle for the development of the city in the future. A new generation of mobile crusher, researched and produced by Fote Heavy Machinery, a professional crushing machinery manufacturer, has the capacity of effectively recycling and utilizing abundant building waste like gravel, which can efficiently deal with the problem of urban waste stack.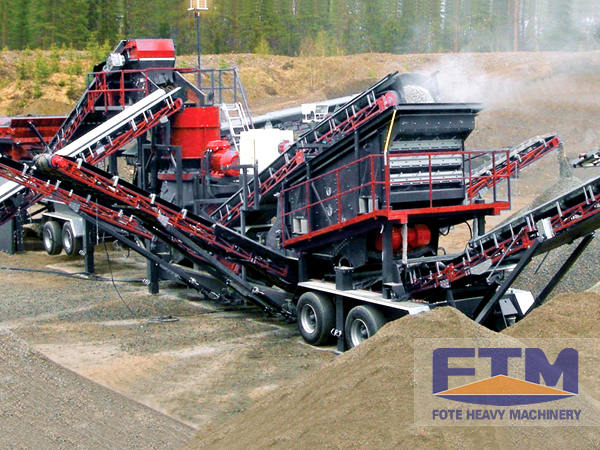 Recently, the process technique of building waste with crushing machines has reached a certain level. It is also very convenient to process building waste with the mobile crusher. As we all know, in the crushing production line, there are some major equipment, including the mobile crusher, the jaw crusher, the cone crusher, the vibrating feeder, and the vibrating screen. Compared with the common cone crusher's crushing capacity, that of the mobile cone crusher is more excellent.
In order to crush building waste, on one hand, the urban environmental protection should be taken into consideration, which should accord with the national standard in urban building waste process. Therefore, the crushing machine itself should be of environmental protection and energy conservation. In the production process, there should be a reasonable solution to lower the noise and decrease many pollution elements like dust. On the other hand, the urbanization development should be accelerated. People pay much more attention to the use ratio and the requirement in the processing capacity of building waste is also a necessary index, which will promote the increase of the production capacity of crushing machines.
The mobile cone crusher can meet the requirements mentioned above, which is one of the crushing machines with the most excellent crushing capacity, with lots of advantages, such as big processing capacity, big production capacity, energy conservation, less noise, nice seal. The cost in maintenance can be greatly decreased, which can make the productivity be increased surprisingly. In a word, the mobile cone crusher is a kind of ideal equipment, which is of energy conservation.