With the rapid development of the ore crushing machinery, the whole technical level in mining industry has been increased. The ore crushing machine has been listed as the core equipment in large-scale mine. According to the feeding size of the rock and the particle size of the final product, the ore crushing machine is used to conduct the rock coarse crushing, secondary crushing, and the fine crushing operations. On the base of the constant application, the crushing machinery has been developed, which can increasingly meet the requirement of clients. By hitting the material twice or for more times, the sand making machine can grind and break it. The sand making machine can conduct the secondary or ultra-fine crushing operation of the materials with different hardness. The VSI sand maker has been widely used in many industries, such as mining, metallurgy, highway, railway, chemical engineering, and so on. It can offer high-quality gravel aggregate to highway, high-speed railway, high-rise buildings, municipal administration, hydro-power dam construction, and concrete mixing station. It is the first choice for artificial sand production and stone material improvement. Besides, the stone production line can also be called gravel production line.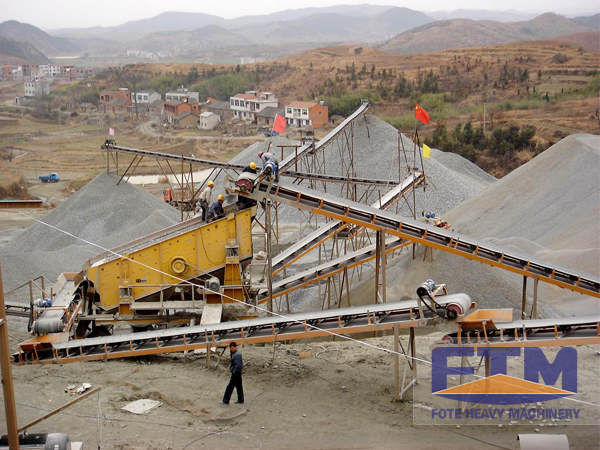 The Basic Flow of the Gravel Production Line:
First of all, stone is evenly sent into the coarse crushing machine to be crushed in advance. Then, the crushed coarse material is sent into the secondary crushing machine like the impact crusher or the hammer crusher by the belt conveyor to be crushed further. The crushed material is sent into the vibrating screens of different specifications to meet different requirements in size. The qualified final product can be transported to the final product pile while the unqualified one should be sent back to the impact crusher by the belt conveyor to be crushed again. The final product with different sizes can be classified according to clients' demand. Besides, in order to protect environment, the gravel production line can be equipped with the dust collecting equipment.
The Property of the Gravel Production Line:
The whole gravel production line is of high automation level, which doesn't need to be controlled by hand except in downtime and daily maintenance. It meets the national standard in highway material because it has many advantages, such as high production efficiency, low running cost, high benefit, even particle size of the final product, nice shape of the final product. The allocation of the gravel production line is determined by the specification, production, and application of the stone material. We will try our best to provide you with the reasonable and economical production line.