As the saying goes, "want wealth, build a road first." Facing the challenge of a large amount of market demand, with the development of the infrastructure construction in our country, the planning of highway construction is being carried out, in order to promote the development of the economic foundation of different areas. The impact crusher plays an increasingly important role in construction industry.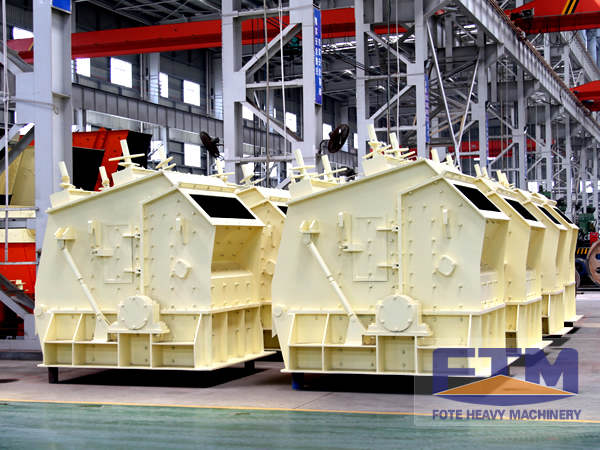 The high efficient impact crusher is applied to crushing hard rock. It can crush ores or rock whose compressive strength are less than 350 MPa. The impact crusher has many advantages, such as high processing capacity. The particle of its discharged materials is fine. The shape of the most finished products of the impact crusher is cubic and few products are flaky. And there is no cracks in the finished products. Therefore, the impact crusher is the preferred equipment for producing excellent gravel in many industries, such as the highway industry, the water conservancy industry, the airport and the construction industry, and so on. Thus, impact crushers are widely used in the construction of highway and high-rise buildings.
The impact crusher, developed by Fote Heavy Machinery, can run smoothly. And it's easy to be maintained. Its volume is small and it is light so that it is convenient for people to replace its parts and to move it. The technology and the structure of it are simple. It becomes a secondary crushing equipment. Its productivity is high and its output is large. The service life of its hammerheads is long. The impact crushers are of environmental protection and energy conservation, which can be applied to fine crushing. They can crush granite, basalt, quartz stone, pebble, bauxite, and other ore.