With the advance of technology, the development of crushing machinery is becoming increasingly fast and its application range has been enlarged. The crushing machines we used are generally used in mining, which is mainly used to crush stone, ore, sand river, coal, etc. Recently, crushing machinery is widely used in many industries, such as mining, metallurgy, building material, road, railway, water conservancy, chemical engineering, and so on. There are a series of crushing machines, including the primary crusher like the jaw crusher, the secondary crusher like the impact crusher or the cone crusher. Compared with the feeding size of the jaw crusher, those of them are relatively small. Thus, they are often used as the secondary crushers, which just follow the jaw crusher. The final product of them can be used directly in industry. As a kind of sand making equipment, the sand maker has lots of functions, which can both make sand and crush stone so that it is welcomed a lot.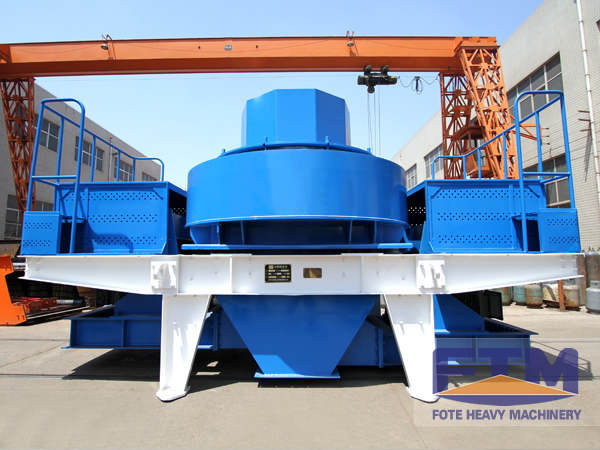 The crushing machinery is widely used in a variety of industries, especially in stone material industry. Nowadays, the infrastructure construction in our country is in the support by the nation so that there are countless opportunities for the development of crushing machinery. Recently, various crushing machines are of advanced technique, excellent quality, reasonable price. However, with the promotion of the energy conservation and environmental protection, manufacturers are tending to produce energy-saving and environmental crushing machines.
Nowadays, in Fote Heavy Machinery, the research & development and production of machinery have been paid much more attention to. The crushing machines made by Fote have been adopted widely due to their advantages, such as longer service life, less energy consumption, and simple operation, and so on. By the optimization of the machine and its structure, it can have higher crushing efficiency. At the beginning of the design, some problems about maintenance and noise have been taken into consideration by us. Besides, lot of running cost can be saved by a kind of new crushing machine. In addition, the investors in mining are more willing to purchase the energy-saving and environmental crushing equipment with reasonable price and reliable quality. Therefore, For the long-time development, The energy-saving and environmental crushing machinery is increasingly of superiority.