The Installation of the Toothed Crusher
There is a vibratory unit of the toothed crusher pump. In the time of the installation or before the test-run of the toothed crusher, all the fasteners should be fastened well. In the operation process, they should be examined and fastened regularly.

In the installation process, the rotating direction, showed by the rotating arrow marking on the pulley, is irreversible.

After the installation of the motor, according to the situation, there should be a belt guard.

The gap between the impact plate and the board hammer should be gradually turned down according to the requirement. After the adjustment, the rotor should be rotated by hand to check whether there is clash. When the adjustment has been finished, the sleeve nut should be locked, for fear that the impact plate is affected by the vibration then the nut is loose and falls down to hit the board hammer, which may cause accidents.

Because the outlet is at the bottom of the machine, somethings should be taken into account in the design process, including the installation height, the configuration of the feeding and discharging device.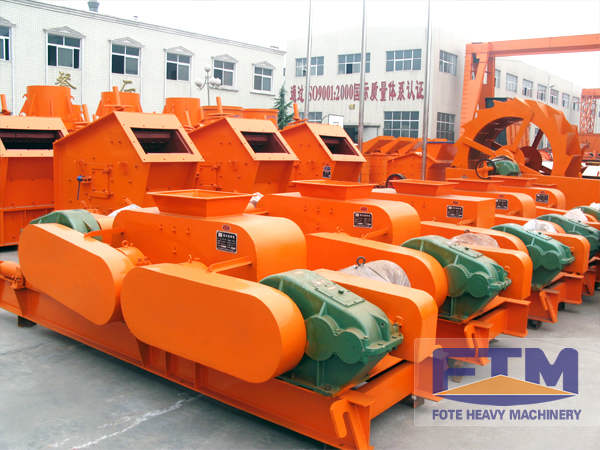 The Maintenance of the Toothed Crusher
In the operation process of the toothed crusher, it should be examined usually. If there is an abnormal noise of it or the bearing temperature is more than 700℃, the machine should be stopped immediately to be checked. Only when the fault has been eliminated in time can the machine be started again.

When the machine is in the normal operation, the material can be fed into it. It should be fed evenly for fear of some hard objects like iron block. The feeding must be stopped before the machine stops. The motor can be stopped just when the material inside the machine has been crushed completely.

After the maintenance and the adjustment of the outlet of the toothed crusher, the rotor should be rotated by hand firstly to ensure that there is no abrasion or getting stuck between the rotor and other parts and it can rotate flexibly. Then, the motor can be started.

It should be checked whether the bearing block is sealed well. The bearing block should be lubricated once a month. Every three months, all of it should be cleaned and the lubricant should be changed.