1. The Process of the Gravel Production Line
First of all, stone is primarily crushed with the coarse crushing machine like the PE jaw crusher. Then, the crushed stone is sent into the fine crusher like the PEX jaw crusher with the belt conveyor to conduct the further crushing process. The fine crushed gravel is sent into the vibrating screen, which is separated into two kinds of gravel. The gravel whose particle size can meet the feeding size of the sand making machine is sent into the sand maker to make sand while the other gravel is sent back to the PEX jaw crusher to be crushed again. Some of the gravel can be made into sand with the sand making machine and it can be made into the final product if it has been washed by the sand washer, which is alternative. The other gravel should be crushed again with the sand maker to make the sand which can meet different requirements.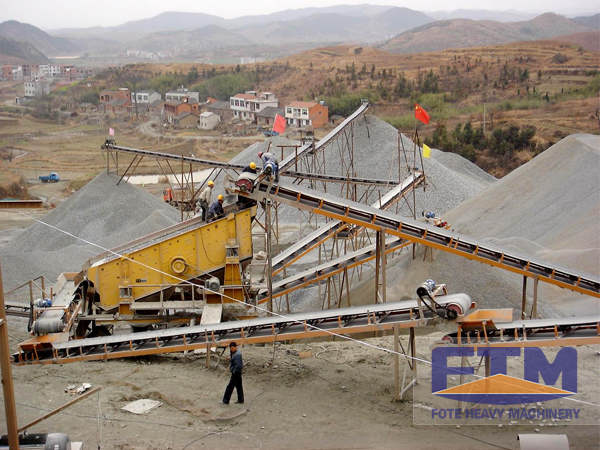 2. The Property of the Sand Production Line
The sand production line has many advantages, such as high automation, low running cost, simple operation, high crushing ratio, big output, less pollution. Besides, it can save more than 20% of the energy and the final product produced by this production line can meet the national standard in the sand used in construction, which has even particle size, nice particle shape, and reasonable grading.
3. The Features of the Sand Production Line
a. The particle of the final product is cubic, which has excellent quality and less needle-like or flaky particles. The final product is of high compression bearing capacity, which can meet the requirement in high-standard construction, such as water conservancy, bridge, super highway, high-rise buildings, and other industries.
b. This production line can be applied to crush many kinds of materials, such as granite, basalt, pebble, cement clinker, quartz, and so on. It can replace the traditional sand making equipment which can only be used to crush soft rock, whose compression strength is less than 150Mpa.
c. The senior engineers of our company are trying to customize the production line with the scientific selection of the equipment for our clients, in order to guarantee that the machines selected for your production line are not out-dated for 3 to 5 years.
d. In this production line, the mud content and powder content of the final product can be controlled.