The river sand dryer is the latest product researched and manufactured by Fote Heavy Machinery, which has many advantages, including the reliable and flexible operation, strong adaptability, and large handling amount. It can generally be used to dry granular materials, sticky or pasty materials, and the ones with much moisture. The two ends of it are sealed precisely for energy conservation and environmental protection. The power consumption of it only accounts for 30% of that of the other drying machines and its coal consumption accounts for 50%. The river sand dryer, also called sand dryer or rotary dryer, can process a large quantity of materials. It is of high productivity, wide application range, small flow resistance, and simple operation. It is often used to dry many materials, such as river sand, slag, coal cinder, etc.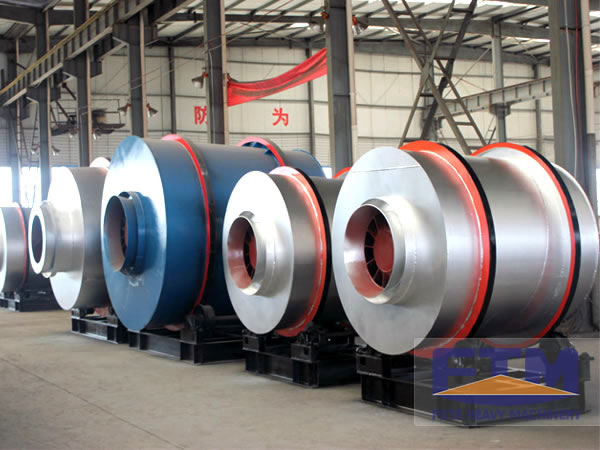 River sand is sent into the hopper by the belt conveyor or the bucket elevator then it is sent into the feeding end of the dryer through the feeding pipe by hopper's charger. The feeding pipe's inclination should be bigger than the material's natural inclination to make the material successfully flow into the drying device, which is a rotary drum that inclines slightly toward the horizon. The material is fed into the drum from the higher end of the rotary dryer while the heat carrier is sent into the drum from the lower end. Thus, the material and the heat carrier are getting in touch with each other reversely. However, in some cases, they can flow into the drum together from the same direction.
With the rotation of the drum, the material runs to the lower end of the rotary dryer with gravity. While moving forward inside the drum, the material can directly or indirectly get the heat offered by the heat carrier, which can dry the wet material and discharge it from the outlet by the belt conveyor or the screw conveyor. There are material lifters on the inner wall of the drum, which can lift and scatter the material to make the material and the air flow contact completely. The heat carrier generally can be divided into hot air and flue gas. After the heat carrier and the material have gone through the drying device, generally, the material carried by the air should be collected with the cyclone dust collector. If the client wants to further decrease the dust load of the exhaust gas, the bag-type duster or the dust washer can be adopted.