The cement ball mill consists of some components, including the feeding device, the discharging device, the rotation part, the transmission, and so on. It is mainly used to grind cement, various ores, and other materials. And it is widely used in many industries like metallurgy.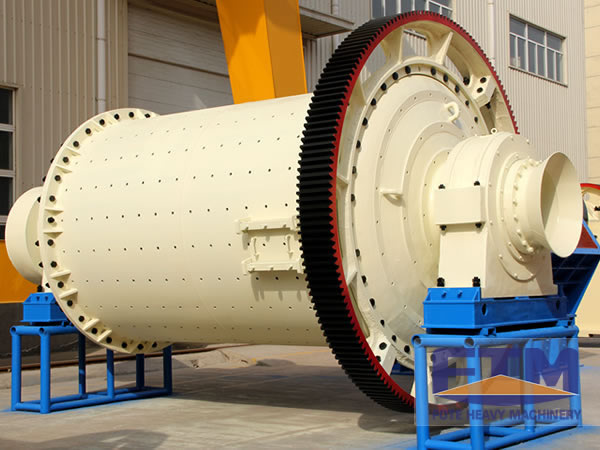 The cement ball mill is a horizontal rotary drum, the wheel gears outside which are rotating to drive the machine. The material is evenly fed into the first cavity of the grinding machine by the hollow shaft screw from the feeding device. Inside the first cavity, there is the ladder plate or the corrugated plate and there are the steel balls of different sizes. With the rotation of the tube of the ball mill, with the centrifugal force, the steel balls move on to a certain height then fall down, which will hit and grind the material. After the coarse grinding process in the first cavity, the ground material is sent into the second cavity through the single-wall partition. Inside this cavity with plane liner, the steel balls grind the material further. The powder is discharged from the grid plate, which means the powder grinding process has been finished.
In the total energy consumption in the whole cement production line, most energy is cost by the operation of the ball mill, whose electric consumption accounts for 60%-70% of the comprehensive electric consumption of the cement production line. Therefore, to decrease the energy consumption of the operation of the ball mill is the aim of the cement technicians and researchers. The focus of the selection of the powder grinding equipment is the property of cement and concrete. We should both seek for the energy consumption decrease in the production line and try to meet the need of the energy conservation and emission reduction. The excellent cement is the endurable one which is of high strength. It can promote the development of the mixture industry. The mixture plays a very important role in the improvement of cement.
All above are the working principle and the improvement target of the cement ball mill, offered by Fote Heavy Machinery. If you have any other questions you can call us at any time! More knowledge of ball mills can be found at https://www.infofote.com/.